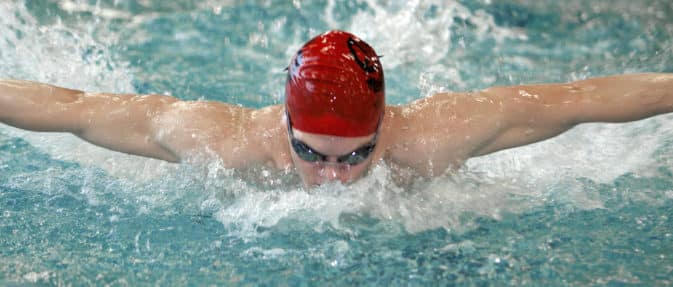 North Clackamas Masters Swimming (NCMS)
Looking for a challenging early morning coached workout? Join the North Clackamas Masters Swimming team. Our goal is to provide opportunities for members to develop their full swimming potential within a supportive team environment that promotes fitness, fellowship and fun. NCMS welcomes swimmers of all abilities. Whatever the reason why you want to swim – personal fitness, competition or triathlons – it doesn't matter. It only needs to be important to you!
Workouts are held at the North Clackamas Aquatic Park and require payment of the Aquatic Park's lap swim admission fee. An annual pass (recommended) or punch cards are available to purchase at the front desk.  This fee is separate from the team dues and annual USMS membership fee.  Please see our Rates Page for daily use fees and membership fees.  To sign up, complete the application form and USMS trial/guest membership form.
5 to 6 a.m. Monday/Wednesday/Friday
6 to 7 a.m. Saturday
Fee Structure for all workouts
Monthly Fee: $30
USMS Annual Fee: $64     More Details
_________________________________________
Saturday only option
Monthly Fee: $15
USMS Annual Fee: $64     More Details
Come try us out for FREE. No fee will be charged for your first week, but the Aquatic Park admission fee is required.
Membership applications are available on the community bulletin board located on the Pool Deck.
For more information, contact: Jeff Kaelon at swimmerjlk@gmail.com