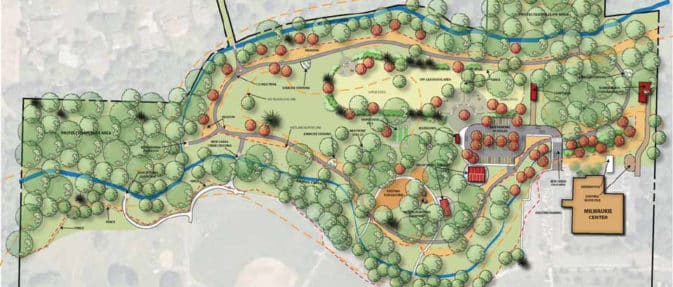 Current Projects
Four Future Parks Planned in Milwaukie
Community members are invited to a series of upcoming visioning meetings in September and October to weigh in on four new Milwaukie neighborhood parks. North Clackamas Parks & Recreation District (NCPRD) and the City of Milwaukie are partnering to plan and develop the parks, which are currently known as Balfour, Bowman-Brae, Robert Kronberg and Wichita parks. While funding to build the parks is not currently available, community input will help shape the concepts for the future parks.
NCPRD is updating the District-wide Master Plan!  Please get involved in this very important project. Click here for more information about the planning process and timeline.
The City of Damascus and NCPRD partnered to develop this  new neighborhood park, located at 16083 S.E. Anderegg Parkway, in Damascus.  The park includes a playground, basketball court, trail, covered picnic shelter, open play areas, and a trail.  The park opened in June.
This new park, located near the intersection of S.E. 152nd Drive and S.E. Pioneer Drive, is now complete!  The neighborhood park includes a playground, basketball court, picnic shelter, and open play areas.
North Clackamas Park-North Side
Phase one of the North Clackamas Park North Side Master Plan is now complete!  The NCPRD Natural Resources team worked with a number of partners to implement phase one of the plan, Mt. Scott Creek Restoration. For more details,  click here.
The area north of Camas Creek presents an opportunity to create a passive recreation setting with an emphasis on environmental enhancement and education to balance the active recreation opportunities south of the creek. The key goal of the plan is to minimize environmental and property impacts, provide for ease of maintenance and longevity and provide a safe and enjoyable experience for the community. The Milwaukie City Council has approved the plan as an ancillary document to the Milwaukie Comprehensive Plan. For more details, click here.
For information about the Trolley Trail, visit the project website.  A detour is currently set up along the Trolley Trail between S.E. Park Avenue and Milwaukie Riverfront Park due to light rail construction.
NCPRD and Clackamas County Parks have completed a Wildfire Management Plan. Click the link above for more information.
Luther Road Habitat Restoration Project
NCPRD, the City of Portland Bureau of Environmental Services (BES) and Metro recently partnered to purchase a 10-acre property between Johnson Creek and the Springwater Corridor. BES started the Luther Road Habitat Restoration Project in late June, 2014.  When complete, the project will provide one-half mile of new trails connected to the Springwater Corridor Trail, new native trees, shrubs and ground cover, and create feeding, breeding and resting areas for fish and wildlife within and along Johnson Creek.  NCPRD plans to create additional park amenities on the site in the future. For more details on the BES project click the Luther Road Habitat Restoration Project website link above.
Hood View Park offers four full size, all-weather turf softball/baseball fields with lights, one inlaid multi-purpose field and a concessions building. Future phases may include a skate park and a dog run. NCPRD has received an Oregon Parks and Recreation Department Local Government Grant to build a nature-inspired playground at the park. NCPRD is hiring a contractor to build the playground and construction is scheduled to begin in fall, 2013.
Capital Improvement Plan (CIP)
NCPRD develops and maintains a comprehensive Capital Improvement Plan (CIP). The CIP is a planning tool designed to guide the implementation of the District's Master Plan and to provide acquisition and development of parks and recreation facilities during the next 20 years. NCPRD is updating the CIP as part of the NCPRD Master Plan Update project.
Mt. Scott – Scouter Mountain Loop Trail Master Plan
North Clackamas Parks and Recreation District (NCPRD), along with the City of Portland, Metro, and Clackamas County are partnering to develop a master plan for a trail that would loop around Mt. Scott and Scouter Mt. in the Portland, Happy Valley, and Clackamas area. The proposed regional trail would be about 34 miles and connect the Springwater Corridor and Powell Butte in the north to Mt. Talbert and the Clackamas River to the south. Go to Metro's website for more information. Contact Katie Dunham, NCPRD Senior Planner, (503)742-4358 or kdunham@clackamas.us with questions or to get involved with the project.