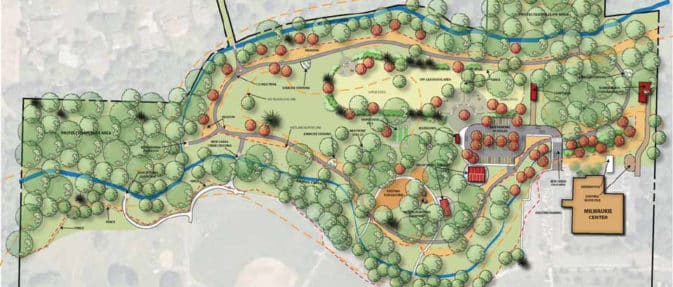 Current Projects
North Clackamas Parks & Recreation (NCPRD) and the City of Milwaukie invited community members to a series of visioning meetings in 2014 to weigh in on the development of four new parks in Milwaukie. The parks are currently known as Balfour, Bowman-Brae, and Wichita parks and Robert Kronberg Nature Park. While funding to build the parks is not currently available, community input helped shape the concepts for the future parks.
NCPRD contracted with Lango Hansen Landscape Architects, who developed concept plans for each park and assisted with community involvement, information gathering and presentations to the District Advisory Board, the NCPRD Board of Directors, and the Milwaukie Parks Advisory Board. You are invited to review the master plans. Funding for these projects is not available at this time. Please continue to check this page for updates or email Kathryn Krygier at KKrygier@ncprd.com to be added to a project email list.
ABOUT THE PARKS:
BALFOUR PARK is a 08-acre, undeveloped neighborhood park site located in the Ardenwald/Johnson Creek neighborhood at 3103 S.E. Balfour St. in Milwaukie. The City of Milwaukie purchased the land in 2008 with funds from Metro's voter-approved 2006 natural areas bond measure. NCPRD and the City hosted two community meetings to discuss the park site and develop a final draft master plan. The master plan includes a nature play area, a flexible open lawn, a community garden area, pathways and other neighborhood park elements.
BOWMAN-BRAE PARK is a .69-acre undeveloped neighborhood park located at the intersection of Bowman and Brae streets. The City purchased the land in 2011 with assistance from Metro's voter-approved 2006 natural areas bond measure. NCPRD and the City hosted two meetings in 2014 to discuss the park site and develop a draft master plan. The master plan includes a small picnic shelter, an accessible play area, picnic tables, a meandering path, and plantings.
ROBERT KRONBERG NATURE PARK is an approximately 5 acre park site located between Kellogg Lake and McLoughlin Boulevard, just south of downtown Milwaukie. The property includes land deeded to the City in 1991 by Robert Kronberg and his wife Dena Swanson and land purchased by the City of Milwaukie with funds from Metro's voter-approved 1995 natural areas bond measure. A bicycle and pedestrian bridge spanning a portion of the lake and park site will be completed in late 2015. NCPRD staff and community members have worked together to enhance the natural resources of the property over the past seven years, including reestablishing native trees and removing trash and weeds. The master plan includes a multi-use pathway, maintenance access, soft surface pathways, experiential nodes, and habitat preservation and restoration.
WICHITA PARK is a 1-acre undeveloped neighborhood park site located in the Linwood neighborhood at 5908 S.E. Monroe Street in Milwaukie. This property currently has an open lawn area with a few trees planted by neighborhood volunteers. The master plan for the park includes a play structure, a half-court basketball court, a perimeter path, picnic tables, benches and a disk golf basket. It was adopted into the Milwaukie Comprehensive Plan in 1999. Updates to the Wichita Park Master Plan were made in 2011 by the Linwood Neighborhood Association with assistance from consultants and approved by the Milwaukie Planning Commission in 2014. NCPRD and the City completed an initial set of construction drawings and a detailed construction cost estimate in 2015. The Wichita master plan on the City of Milwaukie's website.
Please view the final draft concept plans for these parks at the project website link.
---
NCPRD, the City of Portland Bureau of Environmental Services (BES) and Metro recently partnered to purchase a 10-acre property between Johnson Creek and the Springwater Corridor. BES started the Luther Road Habitat Restoration Project in late June, 2014.  When complete, the project will provide one-half mile of new trails connected to the Springwater Corridor Trail, new native trees, shrubs and ground cover, and create feeding, breeding and resting areas for fish and wildlife within and along Johnson Creek.  NCPRD plans to create additional park amenities on the site in the future. For more details on the BES project click here.
---
Phase one of the North Clackamas Park North Side Master Plan is complete.  The NCPRD Natural Resources team worked with a number of partners to implement phase one of the plan, Mt. Scott Creek Restoration. For more details, click here.
The area north of Camas Creek presents an opportunity to create a passive recreation setting with an emphasis on environmental enhancement and education to balance the active recreation opportunities south of the creek. The key goal of the plan is to minimize environmental and property impacts, provide for ease of maintenance and longevity and provide a safe and enjoyable experience for the community. The Milwaukie City Council has approved the plan as an ancillary document to the Milwaukie Comprehensive Plan. For more details, click here.
---
Capital Improvement Plan (CIP)
NCPRD develops and maintains a comprehensive Capital Improvement Plan (CIP). The CIP is a planning tool designed to guide the implementation of the District's Master Plan and to provide acquisition and development of parks and recreation facilities during the next 20 years. NCPRD is updating the CIP as part of the NCPRD Master Plan Update project.
---
Sunnyside Village Trail
NCPRD has received funding from the Oregon Parks and Recreation Department Recreational Trails Program to improve trails within the Sunnyside Village neighborhood.  The proposed Sunnyside Village Trail (SVT) has been designed to serve as a vital, non-motorized, east-west linkage that connects several NCPRD parks, with the eastern terminus at Hood View Park and the western terminus at Mt. Talbert Nature Park.  Phase One of trail development is an approximately 0.45 mile section that stretches from SE 142nd Avenue, through Sieben Park, and eastward onto SE 152nd Avenue.  The proposed route currently includes sections of unimproved, social trails and areas that are devoid of any trail development.  Construction is planned for early 2016.