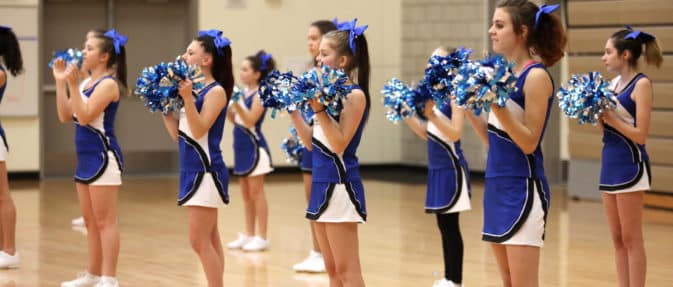 Cheer Starz
Cheer Starz is an award-winning coed cheerleading program for youth, kindergarten through 12th Grade. The program teaches fundamental cheerleading skills such as arm motions, jumps, gymnastics, stunts and dance routines. Skilled instructors work with participants to promote fitness, team building, friendships and fun! Grades K-2 and 3-5 teams are focused on beginning techniques and routines while grades 6-8 through 9-12 are focused on building intermediate to advanced cheer techniques and cheer routines.
All age divisions end their season with a cheer team performance.
Learn more about schedules and fees, or register now.
Want to get more involved? Volunteer today! The success of our recreational youth programs depends on you! Be a positive role model, teach valuable life lessons and promote positive, character building experiences for our youth. Volunteer to coach today to make a difference tomorrow. To volunteer, email sports@ncprd.com or call (503) 794-3877.