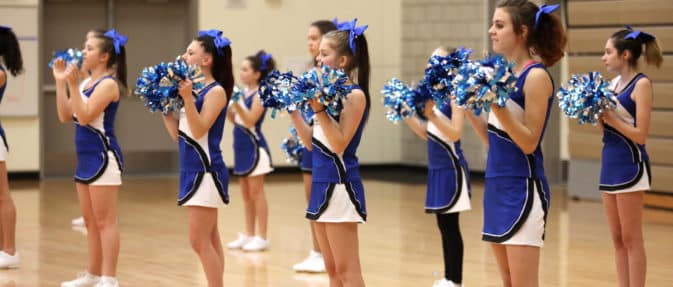 Cheer Starz Dance and Cheer
Cheer Starz is an award-winning coed recreational cheerleading program for youth in grades Kindergarten through 8th Grade. Our Cheer Starz program runs in both the Winter and Spring Seasons. The programs volunteer coaches teach fundamental cheerleading skills such as arm motions, basic jumps, basic stunts and dance routines while promoting fitness, team-building, friendships and fun! All age divisions begin their season with a kick-off clinic and end their season with a cheer team performance. All teams practice once a week and practice dates and times depend on the season.
Hair Bow is included with registration. Uniforms and Poms are purchased separately at an additional cost.
Learn more about schedules and fees, or register now.
Volunteer to coach today! The success of our recreational youth programs depends on you! Be a positive role model, teach valuable life lessons and promote positive, character building experiences for our youth. Volunteer to coach today to make a difference tomorrow.
All Cheer Starz Volunteer Coaches will be required to pass a background check, complete one (Assistant Coach) or two (Head Coach) free on-line coaching certifications, and attend a coaches training session.  (To volunteer, email sports@ncprd.com or call (503) 794-3877).