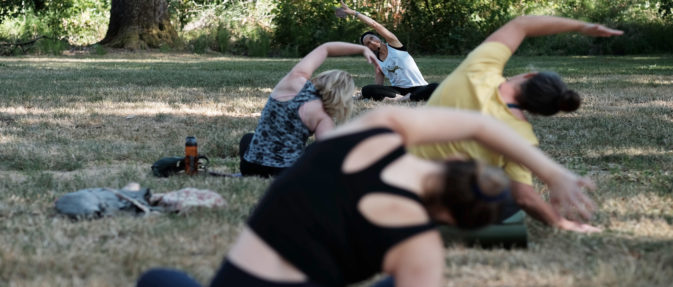 Fitness in the Park
We're taking exercise classes outdoors this summer with Fitness in the Park ! Join us for two free weeks of fitness classes or full six-week classes, including tai chi, Zumba and yoga. Please pre-register for the free classes. Thank you to Bob's Red Mill for sponsoring the two free fitness classes!
Space is limited and pre-registration is required. Like the free fitness classes? Sign up for the full six-week Fitness in the Park program. Registration opens for District residents on April 12 and on for non-residents on April 19.  SEE CLASS SCHEDULES & REGISTER HERE.
Tai Chi in the Park
Levels 2-3. Relieve chronic pain and inflammation, strengthen your immune system, restore strength and vitality, alleviate anxiety and depression, improve your balance and stimulate your brain! This class will introduce you to the ancient Chinese Yang-Style Form. The 24 movements are performed in a continuous, harmonious and synergistic sequence at slow speed—beneficial for any age or physical shape.
HIIT in the Park (High Intensity Interval Training)
Levels 3-4. Give one hundred percent of yourself through quick bursts of high intensity exercises and short active recovery periods. Build strength and endurance, while raising your heart rate and burning calories.
Gentle Pre-Natal Yoga in the Park
Levels 2-3. This class is designed to provide pregnant people with a safe space to connect with their changing bodies as well as other parents to be. It includes yoga poses, deep breathing, relaxation and meditation tailored to best fit the needs of a pregnant mama. Please bring a yoga mat and a towel or blanket to place under your mat.
Strength and Relaxation Yoga in the Park
Levels 2-3. This class takes all the benefits of yoga – meditation, breathing, stretching, strengthening and balance – and presents it at a slow and gentle pace. Please bring a yoga mat and water.
Zumba in the Park
Levels 3-4. Zumba combines Latin and international music that incorporates hip-hop, cumbia, reggaeton, salsa, merengue, mambo and more. Build strength, burn calories, and improve motion and posture.