Outdoor Fitness Circuit Opening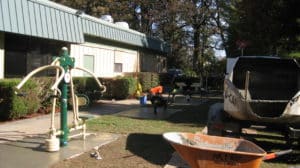 There is a fun and affordable new way to maintain physical fitness and an active lifestyle, and it involves taking your workout outside. North Clackamas Parks and Recreation District is bringing outdoor fitness equipment to the community — making physical activity easy, free and accessible for adults of all ages and ability levels. The Outdoor Fitness Circuit will be located alongside the Milwaukie Center, in close proximity to North Clackamas Park and its pedestrian and bike paths.
The Outdoor Fitness Circuit consists of four low-impact exercise stations that focus on improving flexibility, muscle strength and cardiovascular endurance. These stations include a sit-up bench, seated core-strengthening chair, elliptical and vertical press.
Join NCPRD for the ribbon cutting and opening ceremony of this new outdoor fitness area! Refreshments will be provided, along with fitness equipment demonstrations.
Ribbon Cutting and Opening Ceremony
Date: Wednesday, November 9
Time: 4 p.m.
Location: Milwaukie Center
Address: 5440 SE Kellogg Creek Dr, Milwaukie, OR 97222
To RSVP, please email Caroline Ramer at cramer@clackamas.us.