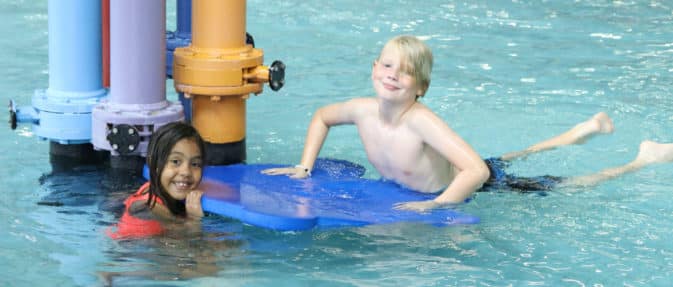 Free Youth Swim Programs
Swimming is an important skill for your children to learn, and promotes a healthy and active lifestyle. North Clackamas Parks and Recreation District (NCPRD) is bringing free swim programs to low-income and underserved families.
These free programs are made possible thanks to the Oregon Community Summer Grant Program, administered by the Oregon Association of Education and Service Districts (OAESD).
SUMMER WATER SAFETY AND FAMILY SWIM SESSIONS
(GRADES K-8)
North Clackamas Aquatic Park is offering complimentary Water Safety and Family Swim Sessions. These one-hour sessions include water safety instruction including life-jacket safety and what to do if someone in the water needs assistance as well as a family recreational swim. An Adult is required to be in the water with the participant at all times. This program is for all NCPRD resident children entering kindergarten thru eighth-grade. Pre-registration is required for this free program. Spanish translation will be provided on August 19 during all sessions.
Location: North Clackamas Aquatic Park
Fee: Free
Time: 4-5 p.m., 5:20-6:20 p.m., 6:40-7:40 p.m.
Date: Fridays       7/15, 7/22, 8/12, 8/19*, 8/26
Sundays     7/17, 7/24, 8/14, 8/21, 8/28, 9/4
           *Spanish translation classes
FOSTER FAMILY SWIMS
North Clackamas Aquatic Park is offering FREE recreational Big Surf! swims for foster families. Come catch a wave or zip down the water
slides. Pre-registration is required.
Location: North Clackamas Aquatic Park
Fee: Free
Time/Date: Saturdays       4-5 p.m., 5:30-6:30 p.m.      8/13, 8/20, 8/27
REGISTER HERE
Free summer camps for grades K-5 are also available. Learn more.
---
Programas Acuáticos Gratuitos
La natación es una habilidad importante que sus hijos deben aprender y promueve un estilo de vida sano y activo. El Distrito de Parques y Recreación del Norte de Clackamas (NCPRD, por sus siglas en inglés) está llevando este programa de natación gratuito a familias de bajos ingresos y desatendidas. Estos programas gratuitos son posibles gracias al Programa de Subvenciones Comunitarias de Verano de Oregon administrado por la OAESD.
SESIONES DE VERANO SOBRE SEGURIDAD EN EL AGUA Y NATACIÓN PARA LA FAMILIA
(Desde el jardín de niños hasta el 8.º grado)
El parque acuático de North Clackamas Aquatic Park y el programa de Subvenciones comunitarias de verano (Community Summer Grant) de Oregon se han asociado para ofrecer sesiones gratuitas de seguridad en el agua y natación para la familia. Estas sesiones de una hora de duración incluyen enseñanza sobre seguridad en el agua, tales como la seguridad del chaleco salvavidas y qué hacer si alguien en el agua necesita ayuda, además de natación recreativa para la familia. Es obligatorio que haya un adulto en el agua con el participante, en todo momento. Este programa es para todos los menores que residen en el Distrito de Parques y Recreación de North Clackamas (North Clackamas Parks & Recreation District, NCPRD), que están por ingresar al jardín de niños hasta el octavo grado. Se requiere la preinscripción para este programa gratuito. El 19 de agosto se ofrecerá el servicio de traducción al español en todas las sesiones.
LUGAR: PARQUE ACUÁTICO DEL NORTE DE CLACKAMAS
COSTO: GRATUITOS
HORA: DE 4 A 5 P. M., DE 5:20 A 6:20 P. M., DE 6:40 A 7:40 P. M.
FECHAS: VIERNES 7/15, 7/22, 8/12, 8/19*, 8/26
DOMINGOS 7/17, 7/24, 8/14, 8/21, 8/28, 9/4
*Clases con servicio de traducción de español
SESIONES DE NATACIÓN PARA FAMILIAS DE CRIANZA TEMPORAL
El parque acuático de North Clackamas Aquatic Park y el programa de Subvenciones comunitarias de verano (Community Summer Grant) de Oregon se han asociado para ofrecer sesiones GRATUITAS de natación recreativa en Big Surf! para las familias de crianza temporal. Venga a surfear una ola o a deslizarse por los toboganes acuáticos. La preinscripción es obligatoria.
LUGAR: PARQUE ACUÁTICO DEL NORTE DE CLACKAMAS
COSTO: GRATUITOS
HORA: DE 4 A 5 P. M., DE 5:30 A 6:30 P. M.
FECHAS: SÁBADO 8/13, 8/20, 8/27