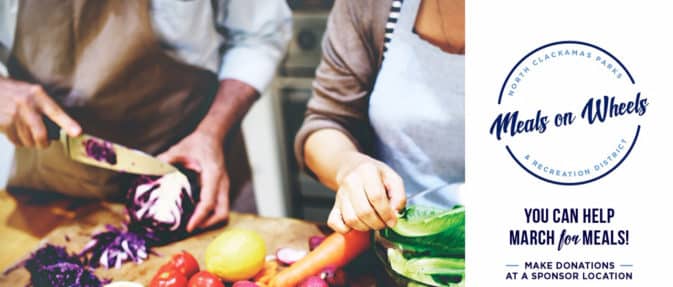 Join the Meals on Wheels Movement!
March is the Milwaukie Center's annual "March for Meals" fundraising campaign for NCPRD's Meals on Wheels program, where dedicated volunteers come together to deliver nutritious meals to older adults and people with disabilities. Together with the support of the community, we provide more than 65,000 meals annually.
Interested in helping out?  You can start by donating at one of the following locations or volunteering your time! Thank you to all of our partners and to Bob's Red Mill for matching donations!
MILWAUKIE CENTER
5440 S.E. Kellogg Creek Dr., Milwaukie, OR
NORTH CLACKAMAS AQUATIC PARK
7300 S.E. Harmony Rd., Milwaukie, OR
CLACKAMAS FEDERAL CREDIT UNION
McLaughlin Branch
18600 S.E. McLoughlin Blvd., Milwaukie, OR
NEW SEASONS MARKET, HAPPY VALLEY
15861 S.E. Happy Valley Town Center Dr., Happy Valley, OR
OLSON BROS. POINT S
14115 SE McLoughlin Blvd., Oak Grove, OR
CUTTING EDGE CREDIT UNION
Milwaukie Branch
4620 S.E. International Way, Milwaukie, OR
Thank you for your support! For more information on March for Meals or the Meals on Wheels program, please call (503) 653-8100.