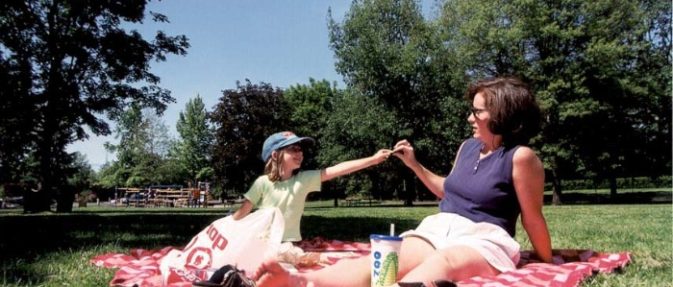 Rent North Clackamas Park.
North Clackamas Park covers 45 acres of fields, waterways and groves of mature oak trees. The property is owned by the City of Milwaukie and managed and maintained by North Clackamas Parks and Recreation District. North Clackamas Park picnic reservation season is May 1-Sept 30.
Park Features: Bordered to the north and west by restored natural habitat along Kellogg Creek, North Clackamas Park includes shaded picnic areas, a covered picnic shelter (capacity: 100), softball fields and fenced horse arena. Amenities include playground equipment, walking paths, horseshoe pits, ball diamonds, fenced dog run and a large open meadow.
Equipment: The rentable picnic area includes picnic tables and convenient access to restrooms and garbage disposal. The site also includes electric outlets and water access. Use of amplified sound/music is  permitted with approved permit only.
Accessibility: The park is largely accessible to persons using wheelchairs, however the rentable picnic area is located in a natural area with a gravel parking area located closest to the covered picnic area. Several footbridges span streams that seasonally run with water. Toilet facilities are handicapped accessible and located in different areas of the park.
Availability/Rental Rates: Park Reservations are available May 1 – September 30. Reservations are available for the season starting March 1st.
Call 503-794-8013 for information on rental rates, deposits, rental policies or to make an appointment for a tour with the Facility Use Coordinator.