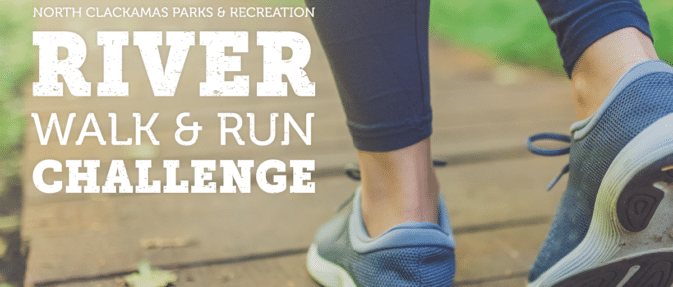 River Walk & Run Challenge
It's time to dust off your running shoes! This July, join North Clackamas Parks and Recreation District for our first virtual River Walk and Run Challenge. To get started, select the distance of your choice that corresponds with the length of a local waterway and learn some fun facts along the way. The courses are relatively flat – ensuring a fun and memorable experience, whether you're running, walking or rolling. The important thing is to get moving!
All participants get an event t-shirt, and those that finish their distance get a commemorative finisher medal.
Here's how it works:
When registering, participants select their challenge distance and the option to participate individually or as part of a team. This event is open to all ages and fun for the whole family. Challenge distances are the length of waterways in and surrounding the district.
Willamette River – 187 miles
Clackamas River – 83 miles
Johnson Creek – 25 miles
Kellogg Creek – 5 miles
Need help getting started? Check out our suggested routes in the district.
Log your distance online during the month of July to track your progress. A link to the online race tracking platform is provided following registration. When you finish your challenge, celebrate your victory and receive your commemorative medal!
Participant Fee
NPCRD – $12
Non-resident – $15
For question, email sports@ncprd.com. Register here.