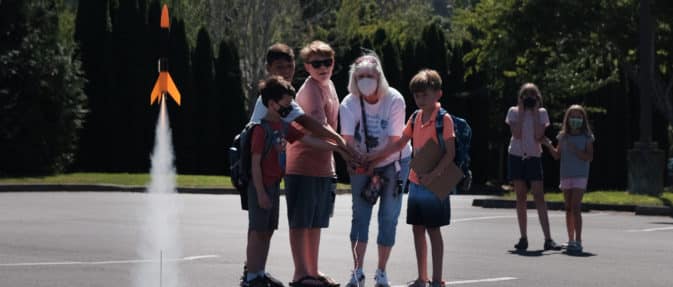 Spring Break Camps
Looking for something fun and engaging for the kids to do while school is out? We've got you covered! Check out our upcoming Spring Break Camps, designed to keep kids active, discovering and having fun. See full schedules and register here.
Mad Science: In the Garden
Age 4-7 (age 4-Grade 1). A fun and hands-on introduction to basic environmental science. Your budding scientist will explore how living things grow and how they interact with the environment around them. Discover how, why and where things grow, how weather affects our gardens, and the basic science of seeds, all while exploring leaves, flowers and the creatures that live in our gardens.
Mad Science: Rocket Lab
Ages 7-11 (Grade 2-5). Ready…3…2…1…blast off! This camp is all about rockets, rockets and more rockets! Your child is in for an action-packed week focused entirely on building rockets and the physics of rocket flight. Campers will build and launch a rocket every day of the week while trying their hand at each role and learning the importance of teamwork.
HOW TO REGISTER
Register by phone: Call (503) 794-8092 and leave a message, and we'll return your call as soon as possible. Due to limited onsite staff, please expect delays.
Please register at least ONE WEEK before class/activity start date.
In case of inclement weather, during in-person programs, contact the class facility before attending.
If minimum enrollment requirement is not met, the class or activity may be canceled and a refund or credit will be issued.
If paying by check, please call the number above to register, and mail payment to 7300 S.E. Harmony Road, Milwaukie, OR 97222