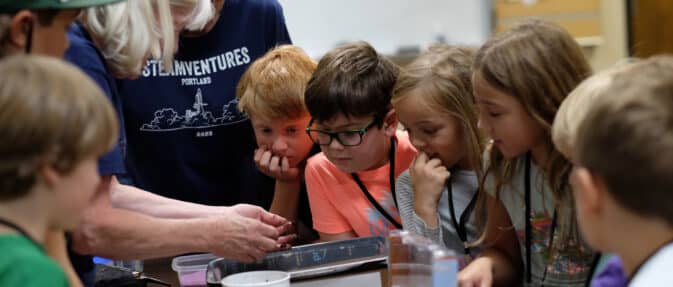 Winter Break Science Camps
Keep your kids engaged and having fun while school is out for winter break! Inquisitive young minds can discover the world around them with NCPRD's STEAMVentures Science Winter Break Camps. See camp details and register here.
Choose a half-day camp, or make it a full-day camp. For an additional $10 NCPRD or $12 non-resident fee, combine a morning and afternoon camp in the same week. When registering, please sign-up separately for the supervised lunch break in between camps.
STEAMVentures: Mini World in a Bottle for the Holidays
Ages 6-10. Build a tiny plant world for your room! This eco-discovery camp will take your child's curiosity and enthusiasm for nature and help them understand how an ecosystem works. Plant your own seeds and watch them grow. Pick plants, mix soil, and use tools to build a terrarium while learning important ecological concepts around plants, animals, water, sunlight and soil nutrients. Students will learn, play and explore, all while having fun, making friends and connecting to nature.
STEAMVentures: Build, Whip-up and Grow DIY Holiday Gifts
Ages 6-10. Calling all aspiring elves and enthusiastic gift givers! Enjoy a week of science experiments as you learn how to use everyday items around the house to make holiday presents for family and friends. Engineer a Christmas tree built with gumdrops and marshmallows, whip up fragrant bath bombs and soaps, and grow crystal tree ornaments – all while studying science, technology, engineering, art and math.
STEAMVentures: Winter Secrets of Plants and Animals
Ages 6-10. Peer into the secret world of life beneath winter snow, experiment with dry ice, make ice volcanoes and frozen slime as our STEAMVentures scientists help us discover why there are different seasons and what happens to plants and animals when the world turns cold. Students will also plant bulbs and uncover the mystery of how they live through the deep freeze of winter.