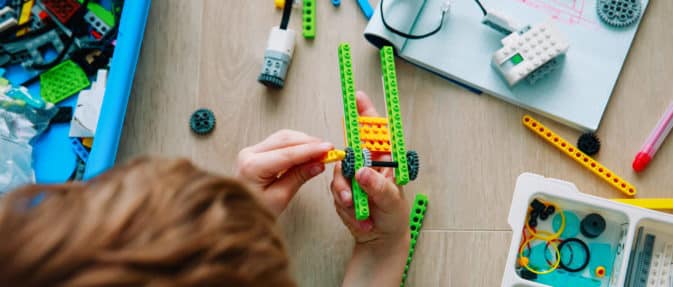 Spring Break Camps
If you're looking for ways to keep your children active and happy once school is out – we've got you covered! NCPRD is offering spring camps for ages 6 through 12, designed to inspire young minds, spark creativity and build connections.
REGISTRATION
Sign up here!  For virtual programs, once registered you will receive a link to access the Zoom class. Registration opens for NCPRD residents on Feb. 16 and for non-residents on Feb. 23.
---
SPRING BREAK CAMPS
Mad Science: Moving with Science
Ages 5-7 (K-2nd grade). Join the Mad Scientist in a fun-filled exploration of how science keeps our world moving. Take a close-up look at a wide array of scientific disciplines including chemistry, biology, engineering, physics and optics. Take apart owl pellets to see what they cannot digest! Join a team of camper engineers and build bridges, domes, cubes and pyramids.
Location:          Milwaukie Center
Fee:                    NCPRD, $185; non-resident, $231
Time/Date:      9 a.m.- noon    MTWThF         3/22-3/26
Mad Science: Brixology
Ages 7-12 (2nd-6th grade). Brixology sets the foundation for our next generation of makers! Learn about the exciting field of engineering as a Mad Scientist guides you and your team to accomplish engineering-themed projects using LEGO (R) bricks and other materials. Aerospace, structural, water, learn about engineering the Mad Science way!
Location:           Milwaukie Center
Fee:                    NCPRD, $185; non-resident, $231
Time/Date:      1 p.m.- 4 p.m.  MTWThF         3/22-3/26
---
FREQUENTLY ASKED QUESTIONS
What safety protocols are in place?
Protecting the health of our residents and staff is our top priority. Learn what measures we're putting into place to mitigate risk and keep you and your family safe. Highlights can be found below, and more details on safety protocols can be found here.
Smaller, stable groups of participants
Increased sanitation practices and safety protocols
Social distancing education and activities
Low- or no-contact check-in process
Daily contact and attendance logs for campers and staff
Screenings for symptoms of illness, including daily health checks
Facial coverings required upon arrival and during certain activities
Are Happy Valley residents still able to sign up for NCPRD recreation programs?
The City of Happy Valley has officially withdrawn from North Clackamas Parks and Recreation District. Happy Valley residents are welcome to sign up for NCPRD youth and adult programs, but as of July 1 are no longer eligible to receive discounted NCPRD resident rates and priority registration.
Are scholarships available for NCPRD Youth Programs?
Yes, scholarships are available for NCPRD-sponsored or run programs, and for in-district residents only. Download the scholarship application here.
NCPRD Scholarship requests will be awarded or denied based on verifiable information provided by the applicant and the criteria established. Scholarships are granted or denied based on financial need as determined by NCPRD staff. Scholarships can be submitted by email to Kandi Ho at kandih@ncprd.com.
What if I want to pay with cash or check, instead of online with a credit card?
If unable to register online, contact us at recreation@ncprd.com to arrange a time for cash/check payment.