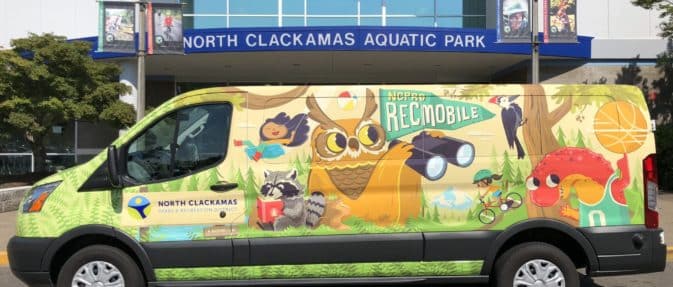 RecMobile
RecMobile dates: June 25 – August 10  (No program July 4) 
Join our summer recreation staff Monday through Friday at selected parks throughout the North Clackamas Parks and Recreation District.  The traveling RecMobile will be loaded with tons of fun and the recreation staff will lead children in a variety of games, sports, crafts and other activities.  This is a drop-in program for children 6 to 10 years old.
Each week will have a different theme.  Come and join in the fun!
Times
Monday
Tuesday
Wednesday
Thursday
Friday
11 a.m. – 1 p.  m.
Summerfield Park
Ball-Michel Park
Ardenwald Elementary

Ardenwald Elementary
Trillium Creek Park
2 – 4 p.m.
Pfeifer Park

14074 S.E. 139th Ave., Clackamas

Wichita Center

Risley Park
Ashley Meadows
Pioneer Park 
Parent/Guardian must fill out a registration form on-site before child may participate in the RecMobile program. Children under age 6 must have a parent/guardian present to aid the child.