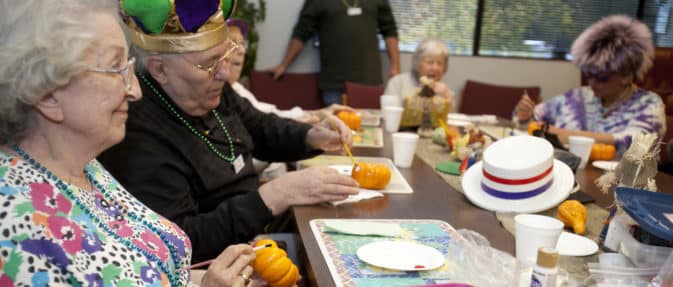 Social Services
Milwaukie Community Center is a link to help in later life. Everyone needs a little help now and then. Milwaukie Community Center is here to provide support or resources in the community. Our skilled staff and volunteers have a host of senior-oriented programs to assist older adults to stay independent in their own homes in the North Clackamas area. We're also here for families as they reach out to help older family members.
Group Respite
A Place at the Center is the Center's award-winning social respite program for older adults experiencing memory loss as a result of stroke, Alzheimer's or related disorders. The program provides activities and socialization for enrolled participants and a break from care for their family caregivers. The program is supervised and led by a professional with the assistance of trained volunteers, in a secure and friendly setting. A Place at the Center meets on Wednesday afternoons, noon-3:30 pm in the Center library. To find out more or to obtain an enrollment application, call 503-653-8100.
Geriatric Assessments
The Center's Social Service staff will assess client's needs and abilities to determine their ability to live independently and what services and resources can benefit them. Call for an appointment to meet with our skilled staff.
Caregiver's Support Group
This group is designed for individuals caring for a spouse, parent, friend or sibling. It provides participants an opportunity to share ideas and meet with others who are experiencing similar challenges. Occasional guest speakers. Call for more information.
Home Repair Resources
The Center's partnership with Prudential Northwest Properties will provide quality, skilled folks to help you keep your home in good repair.
Resource Information
Staff connects people with services available at the Center and referrals to local community resources. We are skilled in responding to a wide variety of questions and concerns.
Legal
The Center offers a Senior Law Clinic on the 1st and 3rd Tuesday of the month. Local, volunteer elder law attorneys provide up to ½ hour consultation on legal issues related to seniors. There is no charge for this service. However, donations are appreciated. Appointments are necessary, 503-653-8100.
Tax Aide
The Center offers a yearly Tax-Aide service starting in February through April 15. Volunteers are trained by the IRS and State Department of Revenue to prepare state and Federal tax returns for older adults and low income and disabled persons. The tax preparers are able to e-file your return for quicker response. Donations in support of this service can be made to the Friends of the Milwaukie Community Center. Appointments are available a couple days a week and fill quickly. Call the receptionist starting the day after Martin Luther King Jr. Day, to schedule an appointment.
Insurance
Health insurance questions are referred to the SHIBA (senior health insurance benefits assistance) Program. This is an important resource for seniors who are enrolling in Medicare for the first time or are interested in changing their Medicare plan. Trained SHIBA volunteers provide educational information to compare and contrast the different points in each plan thereby assisting the senior to make an informed choice. Call the Clackamas County Aging and Disability Resource line for additional information at 503-650-5622.
Healthy Aging Workshops
Attend seminars with local experts on areas of interest in health, financial, legal and other topics. Call the Center for the schedule at 503-653-8100 or check this website for more information.