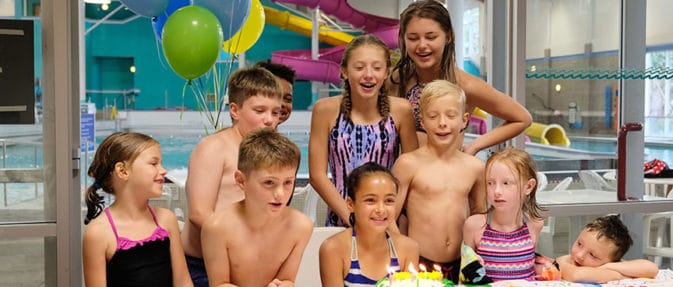 Celebration and Party Room Rentals
Make your next birthday party or family gathering a splash at North Clackamas Aquatic Park! Enjoy your own private party space by hosting your gathering in one of our private rooms. Book a room.
What is included?
Each room rental includes one private single room with seating for up to 25 guests. The poolside rooms feature large windows with views of the wave pools and water slides. The parkside rooms feature large windows with views of our volleyball court and wetland natural area.  Rental fees are for the room rental only, and any additional Big Surf swim admissions must be purchased separately. For inquiries about larger spaces or double rooms, please call 503-794-8080 ext. 0.
For more information, visit our Celebration Room Rental FAQ.
Available reservation times:
Room reservation times overlap with Big Surf recreation swim sessions.
Saturday: 11 a.m. – 1:30 p.m. & 2 – 4:30 p.m.
Sunday: 11 a.m.– 1:30 p.m. & 2 – 4:30 p.m.
Room Rental Fee: NCPRD Resident: $240; Non-resident: $275 ($100 refundable security deposit fee included in the fee at time of reservation) swimming fees are additional for Big Surf swim
Additional Discounts
Party hosts and guests associated with a room reservation will receive $1 off each Big Surf Swim Admission. Reserve your Big Surf swim spots in-person the same day of the party.  Unfortunately, coupons are not eligible for celebration packages.
Book a Room
Book a room online or call 503-794-8080 ext. 0.