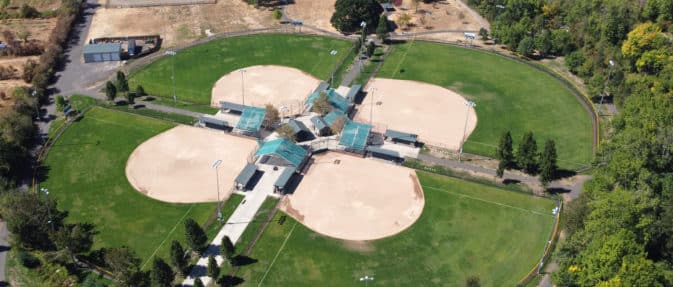 Field Rentals
Looking for a place to host your next softball game? North Clackamas Park has four natural grass softball/baseball fields that are available for rent, with outfields ranging in distance from 210 to 280 ft.
The complex also features:
Musco field lights
Shaded spectator seating
Covered dugouts
Wireless scoreboards
Permanent restrooms
Ample parking
Availability/Rental Rates
To request to rent the ball fields at North Clackamas Park or for additional facility use information, contact sports@ncprd.com or call (503) 794-3877. Download rental form.
Facility Use Permit Application Process
All parties requesting use of NCPRD sports facilities/fields must fill out the appropriate Facility Use Permit Application and submit it for approval prior to the requested date(s) of use.
Applicants will be contacted by NCPRD to confirm availability of the dates requested. All changes or cancellations to the approved permits must be submitted in writing to NCPRD prior to the permit date(s) of use to avoid charges.
Upon permit approval, applicants must provide NCPRD with the following as requested; security deposit, proper insurance documentation, or partial/full payment of rental fee.
NCPRD will invoice all remaining rental fees and charges upon the conclusion of the permit usage dates. Final payment is due within 14 days of notification. (Cash, personal checks, cashier checks, Visa, Master Card or debit cards are accepted forms of payment)
NCPRD reserves the right to cancel or change facility use permit date(s) as necessary.
Address
Ball Fields at North Clackamas Park
5440 S.E. Kellogg Creek Dr.
Milwaukie, Oregon 97222
Additional Resources
Field Rental Facility Use Permit
NCP Complex Rental Agreement – Youth Use
On-site Vendor Permit
For questions, contact: sports@ncprd.com or call (503) 794-3877.