Community Advisory Board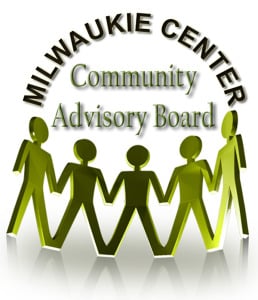 The Milwaukie Community Center Advisory Board (MCCAB) is the primary policy advisor to Milwaukie Community Center staff and the North Clackamas Parks District Advisory Board. The Board meets regularly the second Friday of every month at 9:30 am at Milwaukie Community Center. Everyone is welcome to attend advisory board meetings – bring your thoughts and ideas become a board member apply here!  The last date to apply is September 27th, 2023. For more information, please call 503-653-8100.
Board Members
Wilda Parks, Chairperson
Paul Ellison, Vice-Chair
Ben Horner-Johnson, Secretary
Joel Bergman, Julie Donohue, Mark Elliot, Rebecca Hollenbeck, Virginia Seitz, and Marilyn Shrum.
Milwaukie Center Community Advisory Board Minutes
September 8, 2023 Meeting Agenda
August 11, 2023 Meeting is cancelled
March 10, 2023 Meeting Minutes
February 10, 2023 Meeting Minutes
February 10, 2023 Meeting Agenda
January 13, 2023 Meeting Minutes
January 13, 2023 Meeting Agenda
December 09, 2022 Meeting Cancelled
November 18, 2022 Meeting Minutes
November 18, 2022 Meeting Agenda
October 14, 2022 Meeting Minutes
October 14, 2022 Meeting Agenda
September 9, 2022 Meeting Agenda
September 9, 2022 Meeting Minutes
August 12, 2022 Meeting Agenda
August 12, 2022 Meeting Minutes
July 8, 2022 Meeting Cancelled
March 11, 2022 Meeting Minutes
February 11, 2022 Meeting Agenda
February 11, 2022 Meeting Minutes
January 14, 2022 Meeting Agenda
January 14, 2022 Meeting Minutes
December 2021 Meeting Cancelled
September 2021 Meeting Minutes