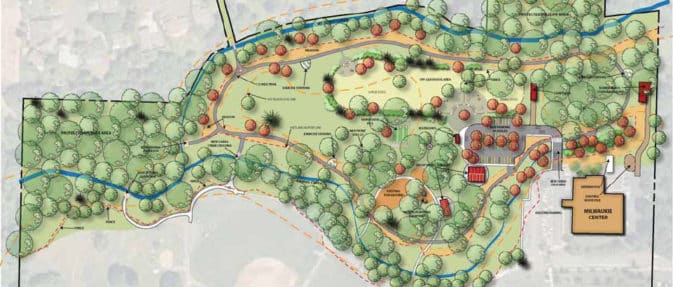 Current Projects
---
Boardman Wetlands Project
The Boardman Wetlands Project is the result of partnerships between Oak Lodge Water Services District, North Clackamas Parks and Recreation District, Clackamas County and other community partners. The 5.8-acre park is part of the larger Boardman-Rinearson Watershed Complex, and is now complete and open to the public.
The project delivers multiple benefits including ecosystem and stream health improvements, as well as recreational and educational opportunities. Park features include a nature play area, outdoor educational areas and a scenic boardwalk trail loop.
Read more about the Boardman Wetlands Project here.
---
Hidden Falls Nature Park Project
North Clackamas Parks and Recreation District has finalized a public-private partnership with Icon Construction to acquire 21.3 acres of wooded natural area and provide public access to a "hidden" waterfall in Happy Valley. The Hidden Falls site is a unique piece of property in the Rock Creek area and had been in private ownership for the last two decades until recently.
Through a creative partnership and three years of diligent efforts to acquire and protect the property, the project is expected to be completed in spring 2019.
Read more about the Rock Creek Hidden Falls Project here.
---
Wichita Park Project
Nestled in the heart of the Linwood neighborhood in Milwaukie is a new 1-acre neighborhood park. North Clackamas Parks and Recreation District is proud to have partnered with the City of Milwaukie and the Linwood Neighborhood Association to help bring the community's vision for Wichita Park to life. Wichita Park is now open for all to enjoy and provides a place for neighbors to gather, play and connect.
Read more about the Wichita Park Project here.
---
Milwaukie Bay Park Final Design
Milwaukie Bay Park is a scenic park near downtown Milwaukie along the Willamette River. It is located just off McLoughlin Boulevard between Kellogg Creek to the south and Johnson Creek to the north. In a joint effort, the City of Milwaukie and the North Clackamas Parks and Recreation District are updating the design to complete Milwaukie Bay Park – including creating places at the park for people to gather, play, and enjoy nature.
The final design focuses specifically on the approximately 2.5-acre grassy area between McLoughlin/OR99E and the riverside path. Construction of the final planned improvements is anticipated to begin in 2020.
Read more about the Milwaukie Bay Park Project here.
---
Four Future Parks Planned in Milwaukie
Beginning in 2014, North Clackamas Parks and Recreation District (NCPRD) and the City of Milwaukie invited community members to a series of visioning meetings to weigh in on the development of four new parks in Milwaukie. NCPRD contracted with Lango Hansen Landscape Architects, who developed concept plans for each park and assisted with community involvement, information gathering and presentations to the District Board and Advisory Board. The parks are currently known as:
Balfour Park
Bowman-Brae Park
Elements of both the Robert Kronberg Nature Park and Wichita Park projects are in the NCPRD Adopted Budget for FY 17-18.
Please continue to check this page for updates or email Kathryn Krygier at KKrygier@ncprd.com to be added to a project email list.
Read more about this four park planning effort here.
---
Luther Road Habitat Restoration Project
In 2014, Metro, the City of Portland's Bureau of Environmental Services (BES) and NCPRD partnered to restore a portion of Johnson Creek and its floodplain, improve stream habitat, water quality and protect natural areas.
Construction of phase I of the Luther Road Habitat Restoration Project is now completed. NCPRD plans to create additional park amenities on the site in the future.
Read more about the Luther Road Project here.
---
North Clackamas Park – North Side
Phase 1 of the North Clackamas Park North Side Master Plan, including the Restoration of Mt. Scott Creek, is complete.
The area north of Camas Creek represents an opportunity to create a passive recreation setting with an emphasis on environmental enhancement and education to balance the active recreation opportunities south of the creek. The key goal of the plan is to minimize environmental and property impacts, provide for ease of maintenance over time, while creating a safe and enjoyable experience for the community. The Milwaukie City Council has approved the plan as an ancillary document to the Milwaukie Comprehensive Plan.
Read the North Clackamas Community Park North Side Planning Report here.
---
Capital Improvement Plan (CIP)
NCPRD develops and maintains a comprehensive Capital Improvement Plan (CIP). The CIP is a planning tool designed to guide the implementation of the District's Master Plan and to plan for acquisition and development of parks and recreation facilities during the next 20 years. NCPRD is updating the CIP as part of the NCPRD Master Plan Update project.
Read more about the current Capital Improvement Plan (2007) here.
---
Rose Creek Trail
The Rose Creek Trail runs through the Sunnyside Village neighborhood and connects area residents with several NCPRD parks, WES natural areas, Oregon Trail School and other community assets. The .45 miles of new and improved trail stretches from SE 142nd Avenue, through Sieben Park, and eastward onto SE 152nd Avenue. North Clackamas Parks and Recreation District (NCPRD) and Water Environmental Services (WES), were awarded grant funds from the Oregon Parks and Recreation Department Recreational Trails Program to transform what was once an informal dirt path into a safe and functional trail. The newly developed Rose Creek Trail consists of compacted, crushed rock which forms a firm tread for pedestrian use.
The trail runs parallel to Rose Creek, a part of the Clackamas River Watershed. E‑orts are underway by project partner WES to protect and improve water quality, manage urban stormwater flows, stabilize eroding stream banks and enhance degraded riparian habitat. The Rose Creek Trail provides opportunities for residents to learn more about the local ecosystem, while enjoying active recreation close to home.
---
Spring Park Natural Area Enhancement Project
Spring Park Natural Area is situated on the east bank of the Willamette River near Elk Rock Island in Milwaukie, Oregon. In 2015, NCPRD partnered with the Oregon Department of Fish and Wildlife (ODFW) to conduct a study on the resident fish and amphibian species inhabiting an alcove one acre in size. Because of its position, the channel only receives water from the Willamette River during the high flow periods of winter and spring.
NCPRD's Natural Areas Team completed the Spring Park Natural Area Enhancement Project in 2016, including riparian and in-stream habitat improvements. Large logs were lowered into the area to support the Lower Columbia River Coho Salmon and other fish species native to the area. Monitoring of the site by ODFW will continue through mid-2018. Read ODFW's 2015 Report here.
---