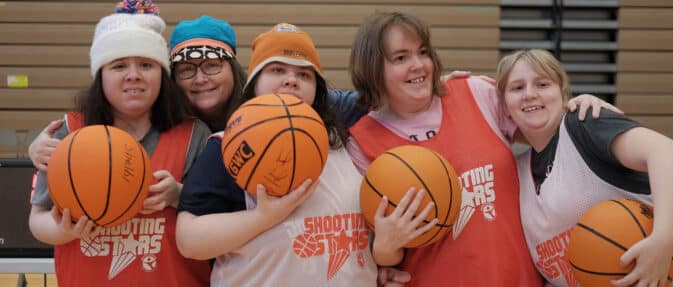 Adaptive and Inclusive Recreation
NCPRD offers adaptive and inclusive recreation programs to district residents who have developmental, learning or physical disabilities. These programs create opportunities for individuals with varying abilities to enjoy recreational and enrichment programs that enhance quality of life.
NCPRD strives to support the unique needs of each individual to deliver accessible recreation in safe and supportive environments.
Dances and Socials
NCPRD's adaptive and inclusive dances and socials are a great opportunity for individuals ages 15 and older to spend time with friends or build new friendships. There are opportunities to play games, participate in fun activities, dance, or just relax and enjoying music. Pre-registration is required. Check upcoming events and register here.
Sensory Friendly Swim
Sensory Friendly Swim is a welcoming aquatic environment for swimmers seeking reduced noise, limited lighting and fewer swimmers in a flat water setting. Swimmers are required to have a responsible supervisor join them in the water. The swim includes waterslides, dive well (no diving board), kiddie pool, hot tub (for 18+) and wave pool (no waves). Two quiet rooms are available as calm spaces. To reduce the noise level there will be no waves, interactive fountains or whistles used.
Sports Programs
NCPRD's Shooting Starz Basketball, Rising Stars Soccer, and Adaptive and Inclusive Cheer Starz programs are designed for individuals with additional needs and cognitive disabilities. Participants enjoy social time and skill building in a supportive and positive environment. More at ncprdsports.com
Contact
We want to hear from you! For questions, feedback or to make a special adaptive request, please reach out to us. For adaptive swim requests, email aquaticpark@ncprd.com or call (503) 794-8000. For adaptive sports requests, email sports@ncprd.com or call (503) 318-9169.