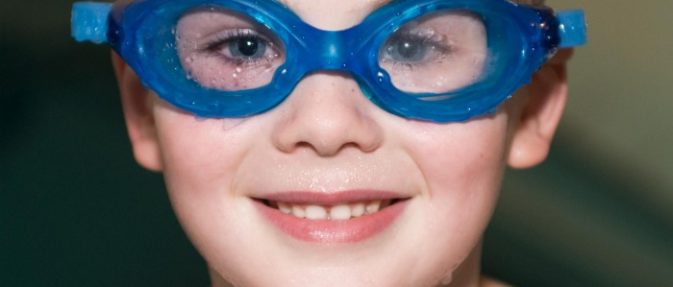 Swim Lessons
The North Clackamas Aquatic Park provides the largest Swim Lesson Program at one facility in the state of Oregon. There are classes available for all ages and ability levels. From babies to adults and swimmers to non-swimmers there is something for everyone!
See an online schedule and register here, or download a PDF version of the Summer schedule here. 
Our Fall PDF version of the lesson schedule can be found here.
All sessions consist of eight 30-minute classes and are taught by certified swim instructors.
Each session of swim lessons cost $60 for NCPRD residents and $75 for non-residents.
You can register online or by phone/in person by contacting the Aquatic Park at:
North Clackamas Aquatic Park
7300 SE Harmony Road Milwaukie, OR 97222 (503) 794-8080 and press zero

Parent-Tot Programs  – 12 to 35 months old
These introduction to water swim lessons are structured for child and adult participants to explore the water together.
Water Babies – 12 to 18 Months Old / Aqua Tots – 19-35 Months Old
Designed for babies & toddlers accompanied by an adult in the water with the adult being an integral part of the learning process.  A positive approach to water adjustment, stressing enjoyment and development of skills and safety skills.
_______________________________________________________________
Pre-school Programs – Ages 3 to 5 years
Class ratios are maximum of one instructor to five students and classes are taught in shallow water.
Seals Intro
Entry level swimming lesson.  Introduces students to basic swimming and water safety skills.
Seals
Builds on basic swimming and water safety skills while focusing on independent swimming, glides and underwater skills.
Swimming Seals
Begins the basics of front crawl with a continued focus on independent swimming.  Introduces students to back crawl skills.
Mighty Seals
Students will be familiarized with back crawl, while fining and elementary backstroke are introduced. Front crawl and rotary breathing refinement continued.
______________________________________________________________
School Age Programs –Ages 5 and Up
Level 1
Entry level swimming lesson.  Introduces students to basic swimming and water safety skills. 1:6 Ratio
Level 2
Builds on basic swimming and water safety skills while focusing on front crawl, breath control and endurance and introduces students to back crawl. 1:6 Ratio
Level 3
Begins refinement of front crawl with a focus on rotary breathing.  Continues  to familiarize students with back crawl, while introducing fining and elementary backstroke. 1:8 Ratio
Level 4
Develops student's ability to swim front crawl for increased distances with a mastery of rotary breathing, while continuing improvement in back crawl and elementary backstroke. 1:8 Ratio
Level 5
Introduces breaststroke, dolphin kick and treading water.  Promotes swimming endurance while establishing student's ability to demonstrate front crawl, back crawl and elementary backstroke for greater distances.  1:10 Ratio
Level 6
Increase swimming endurance in front crawl, back crawl and elementary backstroke.  As well as, improve breaststroke and treading water for 1 minute 30 seconds and introducing sidestroke.  1:10 Ratio
Level 7
Explores circle swimming, workout equipment, stretching, body alignment and diving from the side and board.  Continues to use and improve previously learned strokes.  1:10 Ratio
Level 8
Increases fitness level and technique of all swimming strokes, while also focusing on endurance and organized swimming workouts.  1:12 Ratio
Level 9
Focuses on organized workouts designed to enhance fitness while continuing to refine strokes, build speed and develop
competitive swimming skills.  1:12 Ratio
Lifeguard Training- This American Red Cross course is for individuals 15 years of age and older. This course teaches participants basic to intermediate water rescue skills, basic first aid, CPR for a professional rescuer and AED skills. Course payment includes pool and class time with instructors, equipment use and other necessary materials. A pre-requisite test is administered on the first day and must be completed and passed to gain entry into this class.
Pre-requisite skills include:  Demonstrate the ability to complete a 300 yard swim (Must be completed utilizing front crawl or breaststroke), 20 yard swim then a retrieval of a diving brick (10lbs) from 7 feet depth of water and then return original distance with brick held out of the water and a two minute tread without utilizing hands.
POLICIES
• Students may be enrolled in more than one class at a time.  If the student requires a change of class there will be a $10 processing fee for each class change and will be dependent on availability.
• Before enrolling in the next class or session, it is recommended that the student wait for their completion certification(received on the last day of class).
• Be sure to read the class descriptions prior to registration to best ensure registration for the correct class.
• One may register immediate family only.
• All classes  have a minimum enrollment in order to be offered; classes with insufficient registration will likely be canceled or combined.