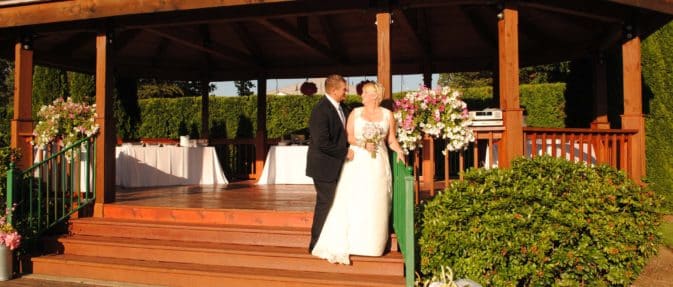 Rentals & Permits
Host your next event at an NCPRD park or facility! Whether you are planning a birthday party, wedding, quinceañera, small corporate gathering or sports tournament, NCPRD can provide the perfect venue. Choose from one of our many sites, both indoor and outdoor, throughout North Clackamas.
North Clackamas Park Shelter and Horse Arena
5440 S.E. Kellogg Creek Dr.
Milwaukie, Oregon 97222
The covered picnic shelter and horse arena are available for rent at North Clackamas Park. Perfect for small to medium outdoor gatherings, the picnic shelter has a covered area with 24 picnic tables and accommodates 100 people (maximum). The gated horse arena is located in the north-west part of the park and is approximately 100'X180'. Learn more about the rental area and other amenities within the 45-acre park.
North Clackamas Park Ball Fields Complex
5440 S.E. Kellogg Creek Dr.
Milwaukie, Oregon 97222
Also within North Clackamas Park are four natural grass softball/baseball fields, with outfields ranging in distance from 210 to 280 ft. The complex features Musco field lights, shaded spectator seating, covered dugouts, wireless scoreboards, permanent restrooms and ample parking. The Complex hosts a variety of seasonal sports leagues and youth activities.
Sara Hite Memorial Rose Garden
5440 S.E. Kellogg Creek Dr.
Milwaukie, Oregon 97222
Sara Hite Memorial Rose Garden is a beautiful outdoor setting for weddings, ceremonies and concerts in the spring and summer. The one-acre site comfortably seats 200 guests and can flexibly accommodate a variety of layouts for your event. Within the garden, a central red brick plaza is surrounded by manicured rose beds and features a large covered gazebo. Sara Hite Memorial Rose Garden is situated in the same complex as the Milwaukie Center and North Clackamas Park.
Milwaukie Community Center
5440 S.E. Kellogg Creek Dr.
Milwaukie, Oregon 97222
The Milwaukie Center offers a variety of spaces that are perfect for your next gathering – large or small. The Center is equipped with Wi-Fi and includes a banquet room with a large stage and audio equipment. The Center has nine rooms available for private events and can accommodate 25-250 guests. Just adjacent to the Milwaukie Center, the Sarah Hite Memorial Rose Garden and North Clackamas Park picnic shelter are also available for rent if a combination of indoor and outdoor venue spaces is required.
North Clackamas Aquatic Park
7300 SE Harmony Rd.,
Milwaukie, OR 97222
North Clackamas Aquatic Park is available for swim parties, pool rentals and meetings. The Aquatic Park features six swimming pools, including Oregon's largest wave pool, as well as three water slides and a 29-foot rock climbing wall. Additional rooms are available for small to medium gatherings, including birthday parties and corporate meetings.
Special Use Permits
Do you have a special request for park use? If your request is different than NCPRD's regular rental offerings, you'll need to submit a Special Use Permit. Activities that require special use permits include filming or photography shoots, educational groups, commercial use, scientific research, gatherings over 25 people and any event that involves alcohol, amplified sound or equipment.
Alcohol Permits
The consumption of alcohol is prohibited at NCPRD facilities and parks, unless sold at a NCPRD sanctioned event. Residents may be granted permit to serve alcohol at private events by completing the Alcoholic Beverage Permit.
Call 503-794-8013 or email rentals@ncprd.com for information on rental rates, deposits, rental policies or to make an appointment for a tour with the Facility Use Coordinator.
Forms & Resources