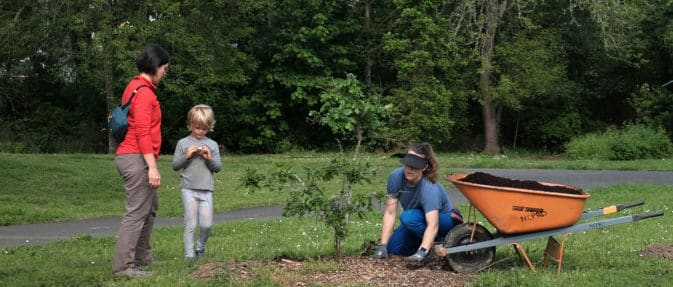 Adopt-a-Park
The North Clackamas Parks & Recreation District Adopt-a-Park program provides opportunities for neighborhood organizations, community groups, individuals and local businesses to get actively involved by working to beautify and clean parks and trails in North Clackamas. When you participate in the Adopt-a-Park program, you take ownership of your parks, and can take pride in knowing you have contributed to making your community a more desirable place to live, work and play.
ADOPT-A-PARK POLICIES
Volunteers are required to maintain their adopted park for a minimum of four (4) times a year, for at least two years. Volunteers make up their own schedules. See suggested timelines for project activities.
Volunteers are required to read, understand and abide by the Safety Guidelines and each participant must fill out a Volunteer Service Agreement/Liability form.
Notify NCPRD office 24 hours prior to a clean-up project that will require debris/litter pickup.
All participants shall conduct safety training and review Safety Guidelines prior to any work session.
Volunteers must abide by Park Rules and ordinances at all times.
Volunteers must notify NCPRD staff when resigning.
Volunteers must track hours, and the group must report total hours on a quarterly basis.

HELPFUL DOCUMENTS AND RESOURCES
Adopt-a-Park Request Form
Volunteer Service Agreement
Youth Service Agreement (under 18)
Safety Guidelines
Reporting Hours Online Form

CONTACT
For additional information or questions, please contact NCPRD staff at 503-794-8030 or email maintenance@ncprd.com.