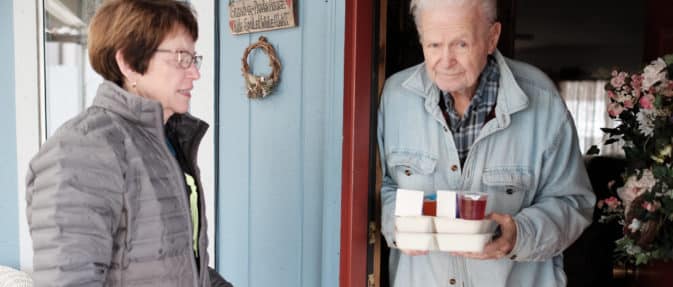 Milwaukie Center Services
Milwaukie Center is an essential link for the older adult community and their families in North Clackamas, offering resources for social services and recreation opportunities. Our skilled staff and volunteers provide senior-oriented programs to help older adults stay independent in their own homes, while staying connected to the community.
The Milwaukie Center building is closed and services are limited to meet the Governor's Executive order and Oregon Health Authorities Guidance on COVID-19. The following programs and services are currently available:
Nutrition Program
Meals on Wheels
The Milwaukie Center's Meals on Wheels program is currently running daily meal service Monday-Friday. Volunteers deliver hot, healthy meals to homebound seniors over age 60 or qualified disabled residents under age 60 in North Clackamas Parks and Recreation District. Learn more about Meals on Wheels here, or call Social Services at (503) 653-8100 to learn more about qualifications and how to apply.
Social Services Information and Referrals
Our skilled staff members offer a host of senior-oriented programs assisting older adults to remain independent in their homes. A valued community resource, center staff members are also here for families as they reach out to help older family members. For a full list of services, call Social Services at (503) 653-8100.
Other valuable services currently available
Community Resource Information
Emergency Firewood Service — Available after October 1st
Family Consultation
Home Repair Resources
Insurance Resources and Information
Needs Assessments
Drop-in Activity Groups
Ukulele Jam Group
This group meets virtually through Zoom. Practice strumming to some popular songs in this casual atmosphere. Please call (503) 794-8092 or email ishiismith@gmail.com for more info and to get on the email list.
Location:          Zoom
Fee:                   Free
Time/Date:      9:30-11 a.m.    Th
Ongoing Clinics & Groups
Foot Clinic
This service is offered by registered nurses who specialize in foot care. This service includes a foot care exam and toenail trim. Available by appointment only.
Location:         Milwaukie Center
Fee:                $40
Time/Date:      By appointment only
---
Below is a complete list of offerings and services the Milwuakie Center offers, once normal operating hours resume.
Meals on Wheels
On-site Meals
Pete's Cafe
Transportation – To/From Center
Grocery Shopping
Recreational Trips
Diabetes Support Group
Legal
911 Emergency Cell Phones
Tax Aide
Insurance
Exercise Opportunities
Blood Pressure Checks
Health Equipment Loan
Foot Clinics
Library
Resource Library
Computer Workstations
Wireless Internet "Wi-Fi"
Voter Registration
Battery Recycling