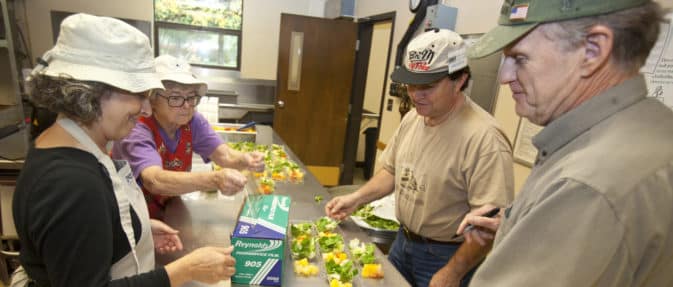 Nutrition Program
Meals on Wheels
The Milwaukie Center's Meals on Wheels program provides nutritious meals  to homebound older adults and their caregivers (60 and older) to who cannot shop or cook for themselves. Meals are delivered by dedicated volunteers – rain or shine – around lunchtime Monday through Friday (except on holidays). Frozen meals are available for weekends and holidays. Learn more about Meals on Wheels.
On-Site Meals
A hot, well-balanced lunch meal is served at noon (Mon.-Fri.) at the Milwaukie Center. $3 suggested donation for 60+; $5 per meal for under 60.
Open 9 a.m.-1 p.m., Mon.-Fri., enjoy daily home-made soup, sandwiches, beverages, pastry and specials at reasonable prices.
For more information on the Milwaukie Center's Nutrition Program, please contact Kathi Schroeder at (503) 794-8035 or via email at kschroeder@ncprd.com.