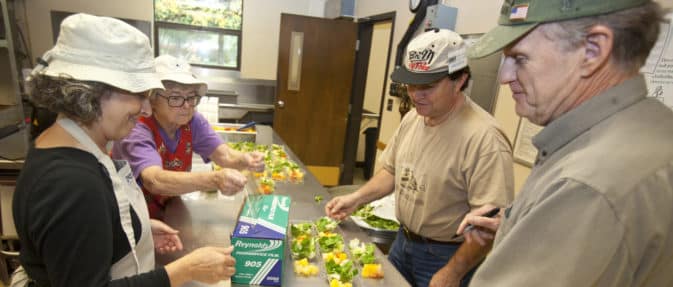 Nutrition Program
Meals on Wheels
Meals on Wheels are fresh, well-balanced lunch which are delivered by volunteers to home-bound older adults and their caregivers (60 and older) to improve nutrition for folks who cannot shop or cook for themselves. Meals are delivered Mon.-Fri. (except on holidays) mid-day. Frozen meals are available for weekends and holidays.
On-Site Meals
A hot, well-balanced lunch meal is served at noon (Mon.-Fri.) at the Milwaukie Center. $3 suggested donation for 60+; $5 per meal for under 60.
Pete's Café
Open 9 a.m.-1 p.m., Mon.-Fri., enjoy daily home-made soup, sandwiches, beverages, pastry and specials at reasonable prices.
For more information on the Milwaukie Center's Nutrition Program, please contact Kathi Schroeder at (503) 654-3030 or via email at kschroeder@ncprd.com.