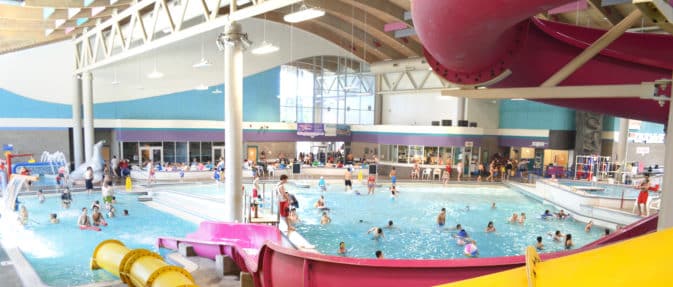 Big Surf!
Big Surf! Open Swim is the perfect time to experience all the exciting features at North Clackamas Aquatic Park! This recreational swim time is open to the public and features 400,000 gallons of fun. Rain or shine, the water is always a comfortable 86 degrees year-round!
FEATURES
North Clackamas Aquatic Park houses several swimming pools, water slides and a 29-ft rock climbing wall. Slides vary in their journey from two twisting tubes of adventure to a drop slide for the more daring! The 29-foot rock wall features three different routes, each with a varying level of difficulty, from easy to difficult and with trained staff to help. The Surfs Up Cafe offers everything from pizza and fries to healthier selections. View their menu for more information.
Featured swimming pools include:
Wave pool with 4-foot waves and both deep and shallow areas for play
25-yard, six-lane competition lap pool
13-foot deep diving well with one-meter diving board
Interactive area with cascading fountains of fun
Kiddie pool with Sammie the Seal slide for those under 6 years of age
Large hot tub for those over the age of 18
Aquatic Park CLOSED with an anticipated opening on April 9, 2020.
BIG SURF! recreational  swim hours
| | |
| --- | --- |
| Monday | no Big Surf! |
| Tuesday | no Big Surf! |
| Wednesday | no Big Surf! |
| Thursday | no Big Surf! |
| Friday | no Big Surf! |
| Saturday | Closed |
| Sunday | Closed |
Click here for rates. The Aquatic Park will have additional Big Surf! swim from 1 to 5 p.m. on May 25.  Closed April 12.

Know before you go…
Individuals 8 years and younger must be accompanied in the water by a responsible supervisor 13 years of age or older.
Children 9 and younger must have responsible supervisor on site at all times.
Individuals 48 inches and taller may ride the red, purple and yellow slides.  Individuals less than 48 inches tall may ride the Sammie the Seal slide.
 Denim, or swimwear with buckles, rivets or zippers are not permitted on the water slides.
 Showers are required before entering the water.
 Goggles are not allowed on the slides or the diving board.
 Floating devices and life jackets not approved by the U.S. Coast Guard and water wings are not allowed in any of the pools.
 Outside food and beverages are not permitted in the park. Concessions are available.
 Individuals must be 18 years of age or older to use the hot tub.
 Rock wall climbers must be between 45 and 250 pounds to climb Steel Mountain.