Rock Wall
Steel Mountain is the North Clackamas Aquatic Park's 29-foot rock wall. The wall offers three different routes. Each route varies in its degree of difficulty. While the hardest route may provide a real challenge for even the more experienced, the easiest route is a great introduction to rock climbing. All in all, the rock wall is a wonderful experience for everyone from the timid to the enthusiastic!
Steel Mountain is included with Big Surf! admission and available for rentals with prior arrangement. Rental of the entire rock wall during non-Big Surf! hours is $120 – $155 per hour.
| | | | |
| --- | --- | --- | --- |
| ROCK WALL RATES | NCPRD |   | Non-Resident |
| Single Climb | included with Big Surf! admission | | included with Big Surf! admission |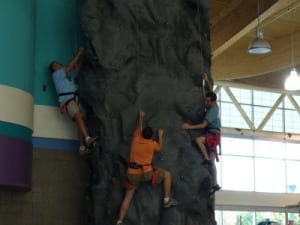 RULES
• Do not climb the wall unattended, without a harness and/or ground padding present.
• Do not attempt to put on and/or remove the harness without help from a trained staff member.
• Climbers must be between 45 and 200 pounds.
• When harnessed stay in the harness area until told to proceed.
• Do not cross over routes when climbing.
• Avoid contact with fellow climbers and be alert of others.
• Do not kick off the wall when rappelling.
• Do not swing at any time while climbing or harnessed.
• Do not climb beyond the top of the wall.
• Descend straight down after climbing and always try to land feet first.
• Horseplay on or around the rock wall is strictly prohibited.