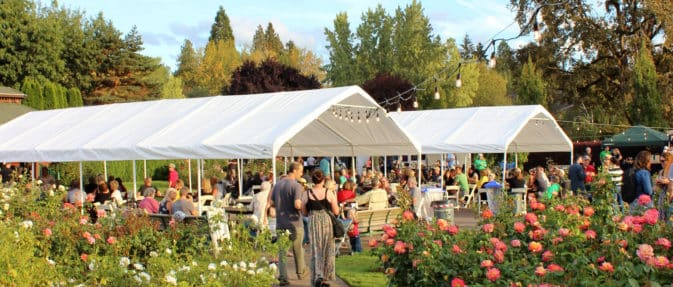 Sara Hite Memorial Rose Garden Rentals
The Sara Hite Rose Garden is a hidden gem nestled at the entrance of North Clackamas Park, just 20 minutes outside of Portland. The one-acre, award-winning rose garden provides a beautiful and elegant backdrop for your ceremony, reception or wedding.
Availability/Rental Rates
The Sara Hite Rose Garden is available for use between the hours of 10 am and 10 pm. Call 503-794-8013 or email rentals@ncprd.com for information on rental rates, deposits, rental policies or to make an appointment for a tour. Download the rental form.
Garden Features
The Rose Garden's central red brick plaza is surrounded by manicured rose beds, and is framed at four corners by raised beds and tall plantings for added privacy. The open plaza comfortably seats 200 guests and can flexibly accommodate a variety of layouts for your event. A large covered gazebo (22' x 36') is also available within the garden. Just adjacent to the Rose Garden, the Milwaukie Center and North Clackamas Park picnic shelter are also available for rent if a combination of indoor and outdoor venue spaces is required.
Contact the Friends of the Milwaukie Center at junia@friendofthemilwaukiecenter.org to purchase a brick to memorialize your event or a loved one.
Equipment
White folding chairs can be reserved for an additional charge with your rental. Permanent benches offer informal seating at the edges of the plaza and outer walkways. Please note that the use of amplified sound or music is not permitted.
Accessibility
The garden is constructed at one level. Walkways are paved with concrete and memorial bricks. The gazebo is equipped with steps and a wheelchair ramp.
Photos
Address
Sara Hite Rose Garden
5440 S.E. Kellogg Creek Dr.
Milwaukie, Oregon 97222
Additional Resources
Rose Garden Map
Rental Summary
Rental Application
Alcoholic Beverage Permit
Rental FAQ