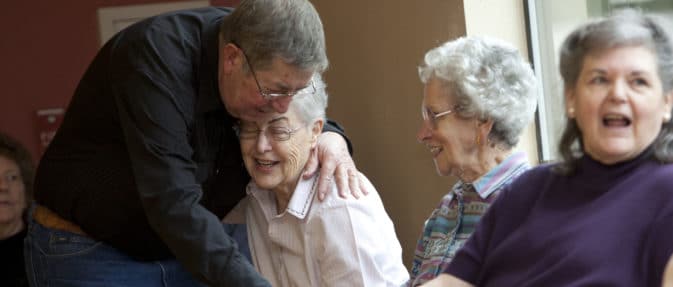 Get to Know Us
Milwaukie Community Center Mission
To be a link to resources for older adults and their families – and a place for the community to gather, grow and contribute.
Our History
The Milwaukie Community Center opened in January 1980 as a resource to community members seeking stability, support, friendship and laughter. The Center offers a wide array of programs and services to meet the diverse needs of the community. In 2010 we proudly celebrated 30 years of providing possibilities for patrons of all ages.
Based on our myriad of recreational and social opportunities, services and resources, the Center is also a staple for older adults and their families in North Clackamas County. These patrons quickly realize we are not a stop at the end of a path – we are a connection to the beginning of the next exciting journey. We offer programs, events and services spanning weekdays, evenings and weekends.
The community not only utilizes the Center, they also support it. Annually, over 800 volunteers help make a difference providing more than 75,000 hours of service through the Milwaukie Community Center. Every one of our volunteers share in one unwavering goal – to provide our community members with unending opportunities to maintain and vastly improve their well-being.
Community Advisory Board

The Milwaukie Center/Community Advisory Board is the primary policy advisor to Milwaukie Community Center staff and the North Clackamas Parks District Advisory Board. The Board meets regularly the second Friday of every month at 9:30 am at Milwaukie Community Center. Everyone is welcome to attend advisory board meetings – bring your thoughts and ideas! For more information about the board please click on Milwaukie Center/Community Advisory Board. We are also looking for volunteers to serve on the Board. If interested, please call 503-653-8100.
Connection Newsletter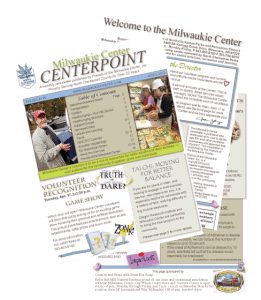 The Milwaukie Community Center is focused on maintaining current communications with our patrons. The Connection Newsletter provides wellness information, activity or interest based connection opportunities and ongoing educational information for our readers.
To add your name to the mailing list or find out about sponsoring a page in the upcoming newsletter, call 503-653-8100, to receive our monthly eNewlsetter.