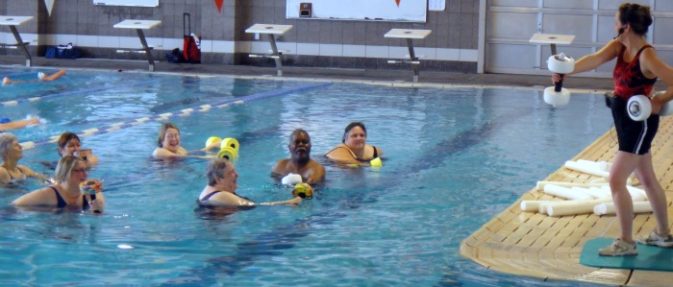 Aquatic Exercise
Water aerobics is a wonderful way to maintain and improve one's physical fitness and overall well-being. There are many known benefits to exercise, particularly when performed in the water. While aerobics offers a full body workout to improve strength and endurance, water provides support for the body and greatly reduces the risk of impact and injury. The North Clackamas Aquatic Park offers numerous classes for a variety of fitness and ability levels.
Classes are available in the morning and evening nearly every day of the week. Check out the class descriptions to see which one would best suit you and your needs.
No Aquatic Exercise classes on July 4th and September 4-29 as the North Clackamas Aquatic Park will be CLOSED.
---

AQUATIC EXERCISE RATES
| | | |
| --- | --- | --- |
| | NCPRD | Non-Resident |
| Drop-In | $6.50 | $8 |
| Senior Drop-In 62+ | $6 | $7.50 |
| Punch Card (18 Classes) |  $104 |  $130 |
| Senior Punch Card 62+ |  $96 | $120 |
H20 Fit
H20 Fit is an excellent shallow water class designed for any level of fitness. The accommodating resistance of water allows for noticeable improvement at one's own pace. This low impact workout comfortably tones and strengthens muscles while developing coordination.
Deep H2O
Venture to the depths of the 13-foot pool where you'll use buoyancy equipment to enhance flotation of the body. This exercise routine enhances flexibility and range of motion while using water to reduce stress on the body.