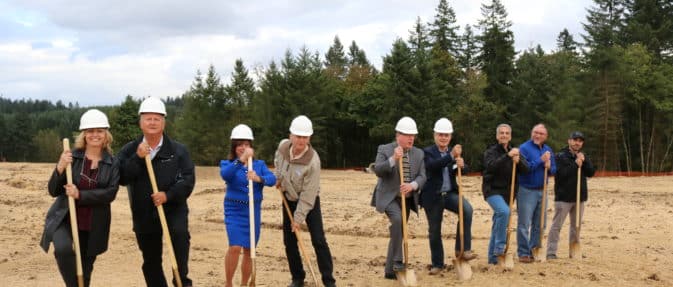 NCPRD hosts groundbreaking to celebrate 'Hidden Falls' park
Representatives of North Clackamas Parks and Recreation District (NCPRD), Clackamas County Board of Commissioners, and Icon Construction formally kicked off development of a project that will provide public access to 21.3 acres of forested natural area and a previously "hidden" waterfall in Happy Valley.
Over 130 residents and project partners attended the groundbreaking of Hidden Falls to learn more about the future of this unique community park and get a first look at the falls. The project, which is more than three years in the making, is the result of a creative partnership between NCPRD and Icon Construction.
"It was great to see residents and neighbors come out to show support for this new project," said Clackamas County Chair Jim Bernard. "Everyone there was so enthusiastic about how this project will benefit the community. All the years and partnerships behind it will definitely be worth the wait."
The Hidden Falls project completes important components of NCPRD's Parks Capital Improvement Plan, and Metro's Mt. Scott/Scouters Mountain Trail Loop Master Plan. A new 0.84-mile segment of paved multi-use trail will serve as a pedestrian and bicycle corridor to connect local public facilities, such as Oregon Trail Elementary School and Pioneer Park to the west, as well as Rock Creek Middle School and Hood View Park to the east.
The overall value of the project is estimated at $2.8 million, with $1.6 funded by NCPRD Park System Development Charges, and $1.2 million in value donated by Icon Construction. It is scheduled to be complete in spring of 2018.
For more information, members of the media and public may contact Marketing Communications Manager, Melina DeFrancesco at 503-742-4347 or MDeFrancesco@ncprd.com.