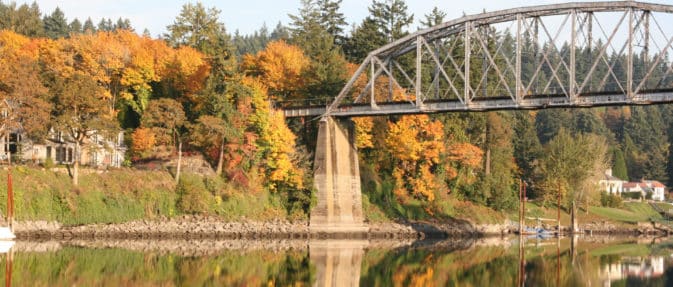 Best Parks for Fall Foliage
Getting out into nature is more important than ever, and there is no better season to explore the beauty of the region. This autumn, keep it close to home and enjoy the crisp weather and vibrant colors in our parks. We've compiled a list of some of our favorite parks and trails for viewing fall foliage – perfect for an outdoor excursion.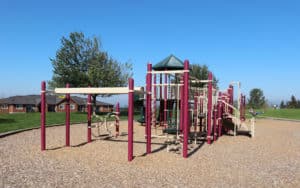 Altamont Park
This hilltop park boasts some of the best views in the district, with unobstructed views of downtown Portland's skyline to the west and Mount St. Helens to the north. Take a quiet stroll along the walking path or join your kids on the playground while taking in the scenic beauty.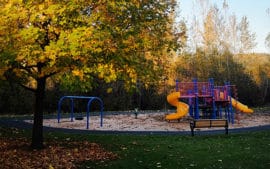 Furnberg Park
Furnberg Park is a community gem tucked away in the Linwood Neighborhood in Milwaukie. A boardwalk trail curves its way through a beautiful natural area, and a walking path leads through an open lawn with picnic tables, benches and a playground.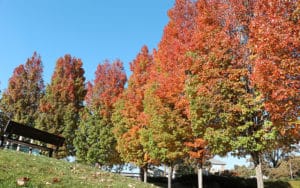 Harmony Road Neighborhood Park
Harmony Road Neighborhood Park features a playground and basketball court, but what makes this park really special are the surrounding trees that transform into brilliant shades of red, orange and yellow in October. If you're looking for a delightful display of fall foliage, this park is for you.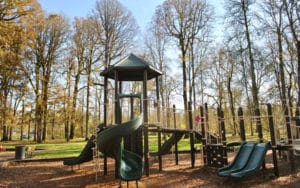 North Clackamas Park & Sara Hite Rose Garden
This 47-acre community park in Milwaukie – one of the crown jewels in the district – offers everything from playgrounds and picnic areas to a horse arena and an off-leash dog area. Nature lovers will enjoy wildlife viewing in the surrounding natural area and the fragrant blooms in the award-winning rose garden. Take a stroll through the grove of giant oak trees and along the winding trail loop, which includes overlooks with views of Camas and Mount Scott Creeks.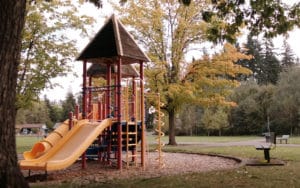 Risley Park
This 5-acre park in the Oak Lodge area has something for everyone. Sports enthusiasts can enjoy a game of tennis, pickle ball or basketball. If you're looking for something more low-impact, get some light exercise on the walking path, enjoy bird watching in the natural area or have a picnic on the lawn.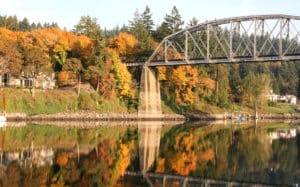 Rivervilla Park
Situated right along the Willamette River in Oak Grove, this hidden gem offers direct access to the water for dipping your toes or casting a line. In the fall, bring a picnic and find a pleasant spot to enjoy the display of fall foliage reflecting off the water.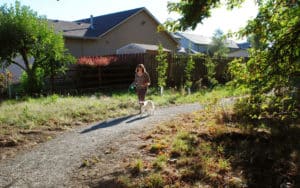 Rose Creek Trail and Sieben Park
The Rose Creek Trail is tucked away in the Sunnyside Village neighborhood and connects residents with Sieben Park, a natural area, and other community assets. The .45-mile trail runs parallel to Rose Creek and makes for a pleasant walk among the trees with the relaxing sound of flowing water close by.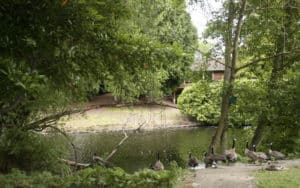 Scott Park
Nestled right next to the new Ledding Library in Milwaukie sits a beautiful little 2.6-acre park with a walking path, benches, amphitheater, trees and a pond where ducks and geese often gather. It's a perfect, quiet spot for reading and wildlife viewing.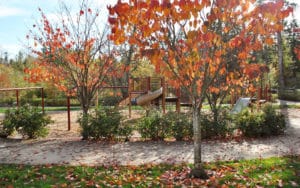 Stringfield Family Park
This 4.5-acre park in the Oak Lodge community includes a playground, picnic shelter and natural areas. Take a stroll along the walking paths while admiring the surrounding vibrant fall leaves and splashes of color. Stop for a moment on one of the bridges to watch dabbling ducks as they bob headfirst into the water below to graze on aquatic plants and insects. You might even spot a beaver wading through the creek.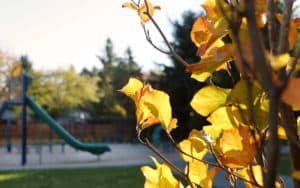 Wichita Park
The newest park in the District, this 1-acre gem is situated in the Linwood Neighborhood of Milwaukie. Wichita Park offers a variety of opportunities for outdoor fun, including a playground, disk golf basket and picnic areas.
See the full list of parks in North Clackamas Parks and Recreation District.