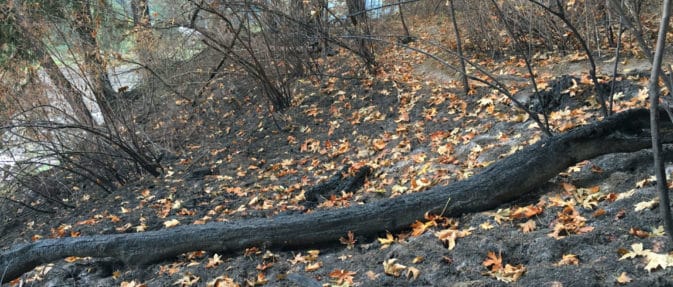 Elk Rock Island is closed due to wildfire damage
On the evening of September 9, 2020, a wildfire broke out on eastern edge of Elk Rock Island in Milwaukie that burned just under two acres of natural area. NCPRD and the city closed both Spring Park's Natural Area and Elk Rock Island to allow staff to begin the process of wildfire damage restoration. A beloved community treasure on the Willamette River, Elk Rock Island contains sensitive habitats that are home to an array of plant and animal species. We will be working with City of Milwaukie and other local agencies to begin the process of wildfire damage restoration. Please help us in our efforts to restore this important and unique site by honoring the current closure.
---
CLOSURES
Elk Rock Island is closed to the public due to wildfire damage. Portions of Spring Park, including the natural area and trail leading to Elk Rock Island, are also closed. Please respect these closures. The more people that violate the closure, the longer it will take for the site to recover and the greater the impact to community at-large.
Closed now through March 31, 2021
The existing closure of both Elk Rock Island and Spring Park will be in place through the end of March 2021. This date is subject to change.
---
RESTORATION UPDATES (Posted January 2021) 
In December, NCPRD and City of Milwaukie continued to monitor understory vegetation, soil, trees and trails at Elk Rock Island to assess needs. Erosion of the soil is still a concern, and staff has been closely monitoring the establishing grass seed and the impacts from the winter storms.
NCPRD staff also implemented needed trail repairs within the burn site to mitigate further soil erosion and create a safe and sturdy tread. A portion of the trail was relocated to provide a more stable walking surface, and resprouting native plants were saved and carefully transplanted in this process. The impacted portion of trail is approximately 250 ft. within the burn area.
In November, NCPRD and City of Milwaukie conducted additional surveys of Elk Rock Island to assess restoration needs. It was determined that to mitigate risk and in the best interest of the site's recovery, a more formal closure was required. Additional closure fencing and signage have been installed at the Spring Park trailhead. The placement of the fencing still provides residents with access to the playground at Spring Park, but prevents access to the trail and fire perimeter. NCPRD staff and City of Milwaukie Police visit the site multiple times a week to monitor the closure.
NCPRD and City of Milwaukie continue to monitor trees, erosion, and vegetation and make additional management action recommendations as needed. As weather allows, NCPRD will continue trail repair, moving two small sections of the trail away from steep slopes and preventing trail erosion.
---
ALTERNATE PARKS AND NATURAL AREAS
With the closure of Elk Rock Island and the Spring Park Trail, we encourage you to explore other parks in the district. NCPRD offers many parks that provide connections to nature and recreational opportunities. Below is a list of other nearby parks to visit, and you can learn more about all NCPRD parks here.
---
FAQ 
For updates on the Elk Rock Island and Spring Park closures, please check back here or follow us on Facebook, Instagram and Twitter. For questions, email parks@ncprd.com.
Fire Damage Images