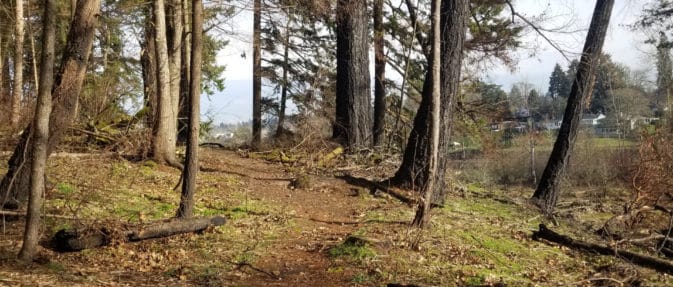 Elk Rock Island and Spring Park are open!
Elk Rock Island and Spring Park are open again for public use, following restoration efforts to repair damage and mitigate hazards caused by the historic wildfire in 2020. Part of the loop trail through the burn area remains closed for further monitoring of tree hazards and continued restoration of vegetation.
During the temporary closure, NCPRD and City of Milwaukie were able to complete the following work in preparation for the site reopening:
Trail repairs: Repairs were conducted on 250 ft. of trail within the burn site to mitigate further soil erosion and create a safe and sturdy tread. A portion of the trail was relocated to provide a more stable walking surface.
Soil stabilization: Weed-free straw and native seed was spread in the burn areas, where soil burn severity and erosion potential was moderate to high. The establishing root structures have helped to stabilize the soil.
Hazard tree mitigation: Risk to visitors from hazard trees was mitigated after the wildfire. Monitoring is ongoing and while trees are recovering, some may still pose a risk to trail users. Trails remain closed in the vicinity of these trees.
Revegetation: In addition to the native plants that have started to return – including thimbleberry, snowberry and Oregon grape – native plant seed was also spread in the burn area to reestablish the ground cover that had been scorched by the fire.
Do Your Part to Help Elk Rock Island Recover
The recovery process following wildfire damage takes time and there is still restoration work to be done on Elk Rock Island. Although the Island may be open again for all to enjoy, part of the loop trail remains closed, as several scorched trees remain which could pose a hazard, and the burn site still has healing to do. Many of the young native plants are fragile and trying to establish. The returning vegetation is helping to stabilize the soil, but potential erosion remains a concern. Please do your part to help this community treasure fully recover by respecting the area closures, staying on the established trails and being mindful of the sensitive habitat.
Changing Water Levels
Elk Rock Island is accessible at low water from the Spring Park trailhead on SE 19th Avenue and Sparrow Street. Water levels may fluctuate and rise depending on the time of year, weather conditions, and changing tides in the Willamette River, cutting off access to the land bridge that leads to and from the island. Please be aware of changing water levels and proceed with caution. See Willamette River tide times.
---
FAQ 
For updates on the Elk Rock Island and Spring Park closures, please check back here or follow us on Facebook, Instagram and Twitter. For questions, email parks@ncprd.com.
Fire Damage & Restoration Images