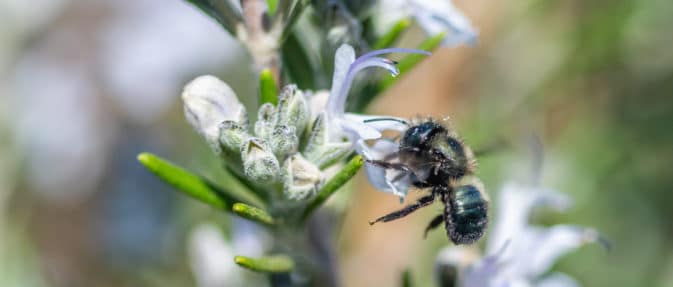 Mastering Mason Bees
Blue Orchard Mason Bees are gentle and don't need much to be happy. Through visual and hands-on activities, learn about their life cycle and how to properly care for mason bees. Before you know it, these efficient bees will go about their business as prolific pollinators in your garden or community garden.
LOCATION: MILWAUKIE COMMUNITY CENTER
FEE: NCPRD FREE, NON-RES $5
AGES 4-7
TIME/DATE: 10-10:45 A.M. S 3/12
AGES 7-10
TIME/DATE: 11-11:45 A.M. S 3/12
INSTRUCTOR: PRISCILLA ROBINSON
Priscilla is a professional science educator and Master Gardener who focuses on providing hands-on learning opportunities for adults and children. She weaves science, art, music and movement into her lessons for children. Priscilla believes it's never too early to bring science and important environmental education topics to families.
INTERESTING FACTS ABOUT MASON BEES
Mason bees are a species of bees that are docile in nature. They have a black body and a dark
blue lustrous gleam. These gentle insects are native to Oregon and are exceptional pollinators.
Mason bees are solitary bees, with no hive structure and no queen. They store captured pollen on stiff hairs located on their abdomen, a distinct feature that differentiates them from honey
bees. In addition, Mason bees are able to pollinate 95% of the flowers they visit each day, 90%
more than their counterpart! These bees typically appear in early spring, when the temperature
is around 50°F. The male bees emerge first, then followed by the females. During the months of
April and May they are busy procreating and pollinating. They work longer hours and in colder
temperatures then honey bees. Will you be able to spot a mason bee this spring?