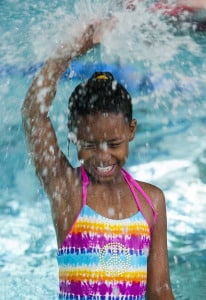 NCPRD operates three facilities: The North Clackamas Aquatic Park, Hood View Sports Complex and the Milwaukie Center.
The Aquatic Park is a regional draw with its six swimming pools, three water slides and a 29-foot rock climbing wall. The Milwaukie Center is a multi-purpose community center featuring recreation activities, senior services and educational opportunities. Hood Vew Sports Complex is a 35-acre complex in Happy Valley featuring four world-class ball fields with all-weather turf, field lighting and a spectacular view.
In addition, NCPRD works closely with numerous partners to provide access to quality sports fields for a wide variety of activities. Sports fields are in high demand, and the findings in the master plan paint a picture of the importance of more fields. Synthetic turf is desirable, as it allows for year-round play. All-weather turf fields at Hood View Park, seasonal fields at North Clackamas Park and all-weather fields installed by NCPRD at Alder Creek Middle School, Rex Putnam High School and Milwaukie High School are still not enough to meet the demand for field space in the District.