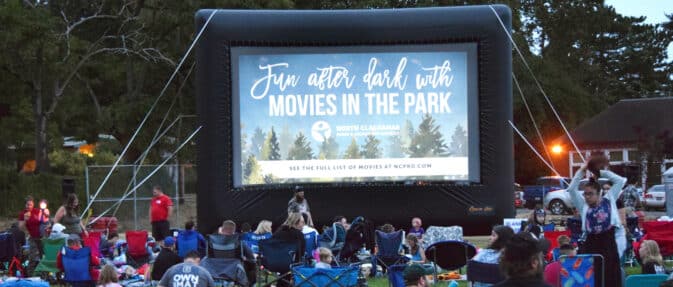 2023 Summer Movies
Movies in the Park are back this summer! Grab your friends and family and settle in under the stars for a movie on the big screen. Movies are free and open to all ages. Movies begin just after dusk, between 8:30-9 p.m.
You voted, and we listened! Check out the lineup of movies selected by the community below. Visit commonsensemedia.org for movie descriptions and ratings to decide if the movie is appropriate for your family. For weather cancellations and more information, call 503-742-4348.
Presented by Sunshine Early Learning Childcare Center.
Movie in the Park
Day
Location
Luca
(2021, PG)
Saturday
July 22
Concord School Property
3811 S.E. Concord Rd., Milwaukie
Puss in Boots: The Last Wish
(2022, PG)
Subtitles in Spanish
Saturday
July 29
Ann-Toni Schreiber Park
6717 S.E. Clackamas Rd., Clackamas
Goonies
(1985, PG)
Saturday
August 5
Pfeiffer Park
14074 S.E. 139th Ave., Clackamas
Top Gun Maverick
(2022, PG-13)
Saturday
August 12
North Clackamas Park
5440 S.E. Kellogg Creek Dr., Milwaukie
Minion: The Rise of Gru
(2022, PG)
Saturday
August 19
Wichita Center
6031 S.E. King Rd., Milwaukie