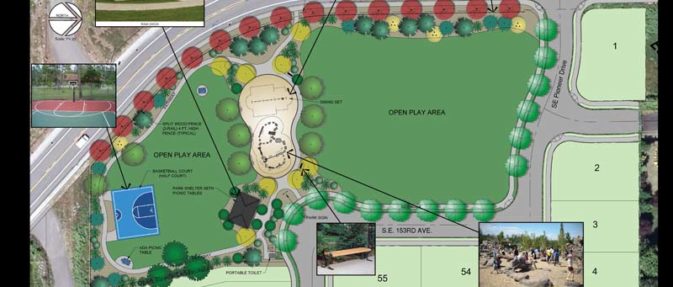 Name your park
It's time to name a new arrival – your neighborhood park!
Clackamas, OR  –  You can make a lasting impression on your community by submitting a name for the new Sunnyside Village Neighborhood Park.  North Clackamas Parks and Recreation District (NCPRD), in partnership with the developer of the adjacent community, is building a 2-acre neighborhood park at S.E. 152nd Drive and S.E. Pioneer Drive.  Proposed park elements include a playground with climbing boulders and swings, a basketball court, picnic shelter, and open play areas.  Construction will begin soon.
Here's the final concept plan.
NCPRD is accepting names through April 11, 2013. Submit your idea to Katie Dunham, NCPRD Senior Planner, at (503) 742-4358 or kdunham@clackamas.us.