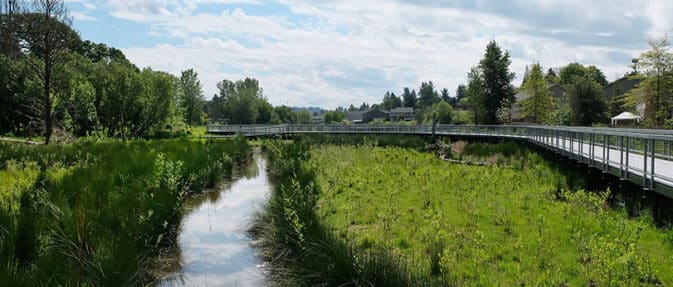 New Park and Trail at Boardman Wetlands
The new park and trail in Jennings Lodge are complete! This 5.8-acre park is part of the Boardman Wetlands and features a nature play area, outdoor educational areas and a scenic boardwalk trail loop. Developed in partnership with Oak Lodge Water Services District, this new park provides recreational activities for all ages, opportunities to connect with nature, and access to observe the diverse ecology of wetland habitats. Still in the process of getting an official name, the new park is now open to the public for all to enjoy.
As much as we'd love to throw a large grand opening event for the community, as we typically would when an exciting new project is complete, due to COVID-19 and social distancing guidelines we're finding other ways to celebrate with you at this time. Please look forward to an in-person community celebration in the future, when we're able to safely bring people together. For now, we invite you to explore your newest park!
GET TO KNOW YOUR PARK
Explore your new park and trail, either virtually from your home or by visiting the park in person. If visiting the park, please be sure to practice social distancing and follow NCPRD's park use guidelines. For everyone's safety and to slow the spread of COVID-19, the trail is temporarily one way until further notice. Get directions and learn more about the park at Boardman Wetlands.