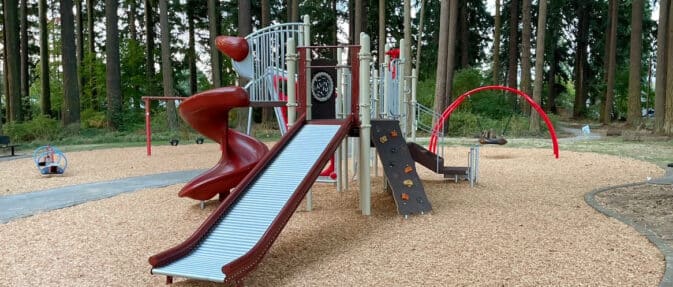 Alma Myra Park Gets Upgrade
The playground equipment at Alma Myra Park has been upgraded to replace failing play structures that no longer met NCPRD's rigid standards for playground safety. Construction has completed and the playground is now open to enjoy.
Of the three equipment replacement options presented, the community selected Option B, which received 68% of the votes (591). We listened to community feedback and further modified playground elements to make the structure more accessible for children of varying abilities, while working within the existing site constraints and budget. Integrated accessible elements include:
Accessible disc swing – Replacement of the traditional tire swing with a disc swing for children of varying abilities.
Roller Slide – Replacement of the traditional slide with a roller slide, providing sensory stimulation and motion play. The wide slide bed allows for multiple children or a parent and child to use the slide side-by-side at the same time.
Interactive Play Panel – Addition of a ground level play panel focused on puzzle, tactile, color and dexterity.
View the replacement playground structure for Alma Myra Park (scroll right and left)


Refer back to the three playground structure options.
Playground Option A
Playground Option B
Playground Option C
FAQ
Contact Information
For questions or additional information, please contact Kevin Cayson, NCPRD Parks and Facilities Director, at maintenance@ncprd.com or 503-794-8030.
---