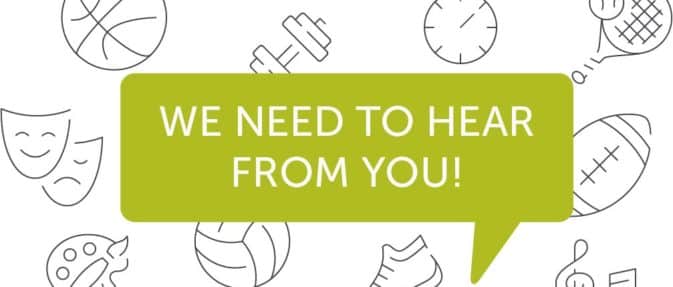 Reopening & Program Input Survey
COVID-19 has changed the way we live, connect and play. That's why North Clackamas Parks and Recreation District needs your input to help us shape our programs moving forward and to better serve our community. By taking our survey, you will give us an understanding of what activities, classes and resources would be most valuable and beneficial to you during these unprecedented times and the days that follow. Your feedback matters, so please take time to share it with us.
---
Encuesta de comentarios sobre la reapertura de los programas
La COVID-19 ha cambiado la forma en que vivimos, nos conectamos y jugamos. Por eso, el Distrito de Parques y Recreación de la zona norte de Clackamas (NCPRD, por sus siglas en inglés) necesita sus comentarios para ayudarnos a darles forma a nuestros programas de aquí en adelante y poder atender mejor a nuestra comunidad. Al contestar nuestra encuesta, nos ayudará a entender mejor qué actividades, clases y recursos serían más valiosos y útiles para usted durante estos tiempos sin precedentes y los días por venir. Sus comentarios son importantes, así que, por favor, tómese un momento para compartirlos con nosotros.