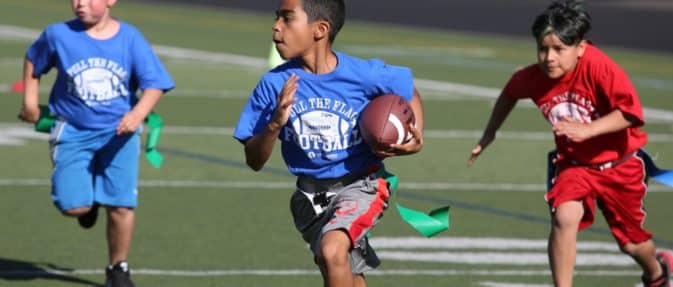 Flag Football
Youth flag football league for boys and girls Kindergarten through 6th Grade. 
Practice fundamental skills and run plays in a non-tackle approach to football, with an emphasis on participation, fun and good sportsmanship. Games and practices are held on Sunday afternoons at Alder Creek Middle School on the turf. Start times vary depending on age division. A team t-shirt is included with registration for all youth participants.
Early Registration Dates: Monday, 2/14 – Sunday, March 13
Regular Registration Dates: Monday, 3/14 – Sunday, April 3
Program Dates: Sunday, April 24 – Sunday, June 19, 2022
See the full schedule and register here.

Volunteer to coach
The success of our recreational youth programs depends on you! Be a positive role model, teach valuable life lessons and promote positive, character building experiences for our youth. Volunteer to coach today to make a difference tomorrow. To volunteer, e-mail sports@ncprd.com or call (503) 794-3877.