Two new parks open in the District
April 15,2019 – North Clackamas Parks and Recreation District (NCPRD) today announced the opening of two new parks in its service area: Wichita Park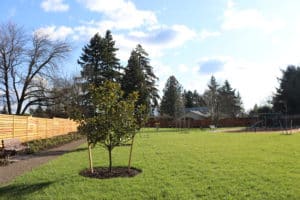 in Milwaukie and Hidden Falls Nature Park in Happy Valley. Both parks feature revitalized spaces that bring connections to nature, community and recreation for district residents.
The one-acre Wichita Park includes a playground, disc golf, walking path, water fountains, picnic tables and benches, and an open turf area. This park is located in the Linwood neighborhood of Milwaukie. It 5908 S.E. Monroe Street.  The park was the result of a partnership with the City of Milwaukie and the Linwood Neighborhood Association, funded by grants from the Oregon Land and Water Conservation Fund and Linwood Neighborhood Association and NCPRD.
Hidden Falls Nature Park covers 21.3 acres of wooded natural area in the Rock Creek area of Happy Valley. This unique piece of property provides access to a previously "hidden" waterfall, as well as a paved multi-use trail, a new timber bridge over Rock Creek and viewing/resting areas. The .84-mile of multi-use trail also provides an important link in the regional trail system, connecting surrounding schools, parks and other public facilities. NCPRD collaborated with Icon Construction on the project, working over the course of three years to identify funding sources to make the complex development and preservation project come together.
Official opening celebrations are scheduled for both parks in the coming months. Attractions for both events will include live music, food, family-friendly activities and opening ceremonies.
Wichita Park: Saturday, April 20, noon to 2 p.m.
Hidden Falls Nature Park: Saturday, June 22, noon to 3 p.m.
"The North Clackamas Parks and Recreation District is thrilled to have worked alongside our project partners and the community to bring these two new parks to life," said NCPRD Director Scott Archer. "These vibrant greenspaces will provide safe, healthy, fun and welcoming gathering areas for all district residents to play, connect and be inspired."
NCPRD serves over 122,000 district residents within the Cities of Milwaukie, Happy Valley, and unincorporated areas of North Clackamas County, including Oak Grove, Jennings Lodge, Clackamas and Sunnyside. Learn more at ncprd.com/current-projects.