Wichita Park Project Receives $265,000 Grant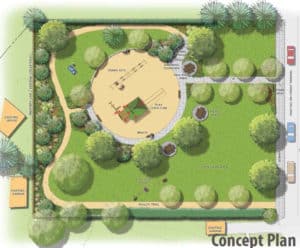 North Clackamas Parks & Recreation District (NCPRD), in partnership with the City of Milwaukie, received $265,000 in grant funding from the Oregon Parks and Recreation Department (OPRD) for improvements to Wichita Park. Wichita Park is a 1-acre undeveloped neighborhood park site located at 5908 SE Monroe Street in the Linwood neighborhood in Milwaukie. The property currently sits vacant, and includes an open lawn area and trees planted by volunteers.
The $265,000 grant, in combination with $255,000 from NCPRD capital improvement funds and a $10,000 grant from the Linwood Neighborhood District Association, will go toward transforming Wichita Park into a community gathering place and neighborhood asset. The Master Plan for the Park includes playground, perimeter paths, water fountain, benches and picnic tables, open turf area, native landscaping, fencing and park signage.
Wichita Park was adopted into Milwaukie's Comprehensive Plan in 1999. Updates to the Wichita Park Master Plan were made in 2011 by the Linwood Neighborhood Association with assistance from NCPRD and consultants, and approved by the Milwaukie Planning Commission in May 2014. NCPRD and the City completed an initial set of concept drawings and a construction cost estimate in May 2015.
For more information, contact Melina DeFrancesco at (503)742-4347 or mdefrancesco@clackamas.us