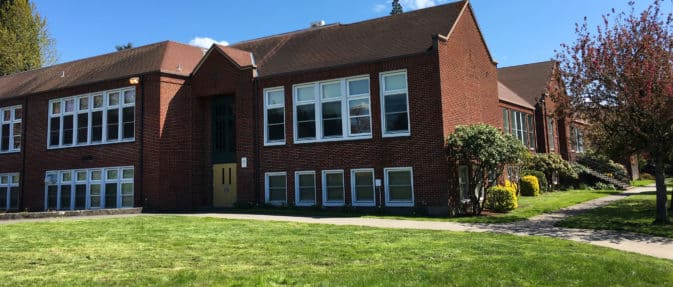 Concord Property Project
A NEW PARK IN OAK LODGE

NCPRD is currently designing a new park on the Concord Property in Oak Lodge. The nearly two-acre park will be situated alongside the historic Concord Elementary School building and new Oak Lodge Library, and will provide opportunities for inclusive recreation and connections to nature. Now in the final phase of the park design, the project team has exciting details on park features to share with the community.
The park design and drawings can be viewed below, and any comments can be submitted through an online questionnaire through April 28.
Un nuevo parque en la propiedad de Concord en Oak Lodge. Aprende más.


---
Park Design Site Map (Click to enlarge)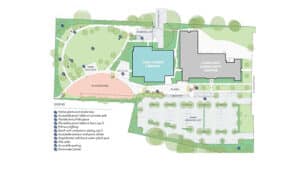 Landscape Architect Renderings (Click to enlarge)
PROVIDE FEEDBACK
Once you have had a chance to review the park design, we want to hear from you. Please take a moment to share you feedback on the park design by completing a questionnaire.

PROJECT SCHEDULE
Download PDF Schedule here.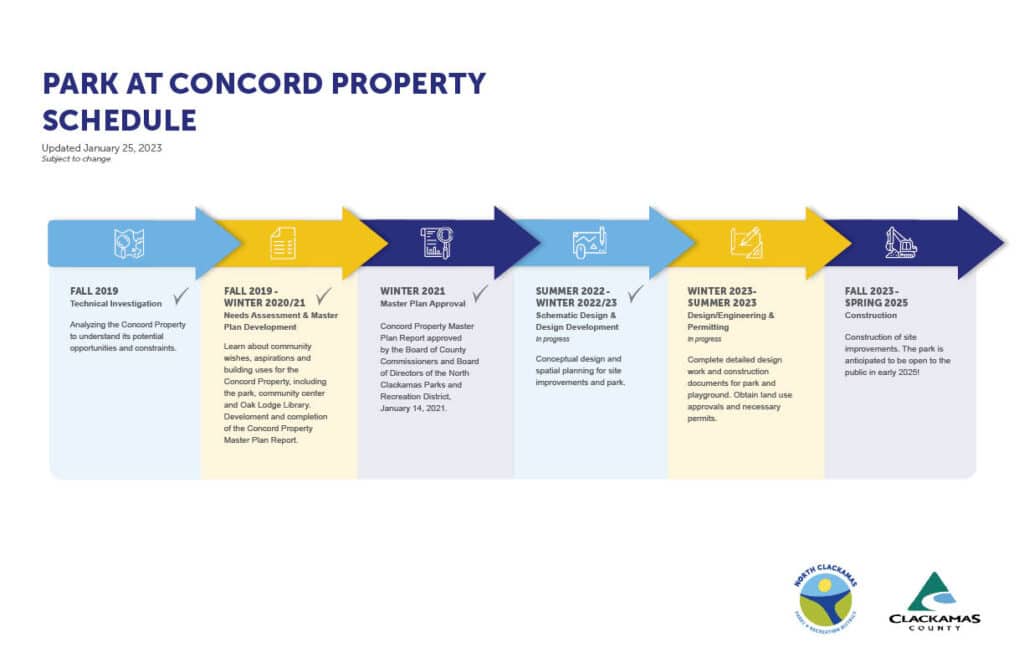 ---
PROJECT BACKGROUND
In March 2018, NCPRD took ownership of Concord Elementary School in Oak Grove as part of a Strategic Partnership with North Clackamas School District. The Concord School was acquired to revitalize the vacant building and surrounding open space for public use, and to bring new amenities and recreational opportunities to residents in Oak Lodge and throughout the District.
With input from over 1,300 community members, and in coordination with Clackamas County and consultants, the Master Plan was developed in 2019-2020 for the Concord Property and its future use. The NCPRD Board and Board of County Commissioners adopted the Master Plan in January 2021. The site will be the location of a new park and community center, and the New Oak Lodge Library. Click the dropdown buttons below for more detail on each.
PROJECT HISTORY
| | |
| --- | --- |
| March 2018 | North Clackamas Parks and Recreation District (NCPRD) becomes the owner of Concord Elementary School in Oak Grove as part of a Strategic Partnership with North Clackamas School District |
| November 2019 | Clackamas County and the City of Gladstone formalize an intergovernmental agreement for construction and operation of the library. |
| 2019-2021 | Task forces and project team conduct extensive community outreach to develop master plans for Concord property, including park, community center, and library. |
| May 2022 | Board of County Commissioners delays construction on the library based on significant construction cost escalations and funding uncertainties. The Concord Property Task Force and NCPRD Advisory Committee both recommend pausing on completing extensive upgrades to the community center due to lack of funding, but to proceed with the park design and construction. |
| October 2022 | Board of County Commissioners approves the use of up to $9 million of ARPA funds for construction of the Oak Lodge Library. |
| January 2023 | NCPRD Advisory Committee recommends the park on the Concord Property as the first NCPRD project to receive Metro 2019 Local Share. |
| March 2023 | Project team conducts public engagement to share park design with the community. |
---
DOCUMENTS & RESOURCES
---
TASK FORCE

The Concord Property and Library Task Force worked with county staff and advised the Board of County Commissioners and NCPRD Board on the creation of a Master Plan for the uses of the Concord Property, including the park, community center, and library. Task force members are community residents with an interest or expertise in historic preservation, parks, sports, libraries, and other relevant topics. See past meetings and minutes. 
---
STAY INFORMED
Get the latest on the Concord Property Project
---
CONTACT
Alex Gilberston
Principal Planner
agilbertson@ncprd.com