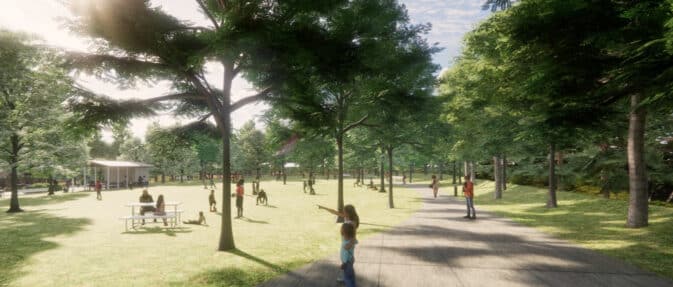 NCPRD receives $1.7 million in grant and Local Share bond funds for new community park
November 9, 2023
Clackamas, Ore. – North Clackamas Parks and Recreation District (NCPRD) has been awarded $1.7 million in grants and Local Share dollars to help complete funding for the new park planned on the Concord Property in Oak Lodge.
The nearly 2-acre park will be developed alongside a community center and the new Oak Lodge Library. The park will provide opportunities for inclusive recreation and connections to nature, including a nature-based play area, a multi-use playfield, picnic areas, restrooms, walking paths, benches, and a plaza for performances and programs.
The $1.7 million in needed funds comes from two sources:
Metro awarded NCPRD $1.2 million in Local Share funding for the new community park, which will go toward development of the nature-based playground, picnic shelter and restrooms. Local Share funding, from Metro's 2019 voter-approved parks and nature bond, is available for local projects that connect communities to nature, support climate change resilience, and advance racial
Oregon Parks and Recreation Department (OPRD) awarded NCPRD $500,373 through the Local Government Grant Program (LGGP) to help fund the nature-based playground planned for the park. The LGGP is a voter approved, State lottery funded grant program administrated by OPRD.
"Thanks to the support of Metro and OPRD, and the hard work of staff, we are able to fully fund the new playground and bring the community's vision for this park to life," said NCPRD Deputy Director Dominic Cortinas. "We are extremely proud to be able to provide a beautiful new playground and greenspace, along with more opportunities for outdoor recreation for all of our district residents."
The total cost of the park project is estimated to be just over $2.4 million, and is funded by the NCPRD General Fund, System Development Charges, Local Share funds and grants. Construction is expected to begin in late fall 2023 and to be completed by spring 2025. For more information, visit ncprd.com/concord-project.
Learn more about the Concord Property Project.