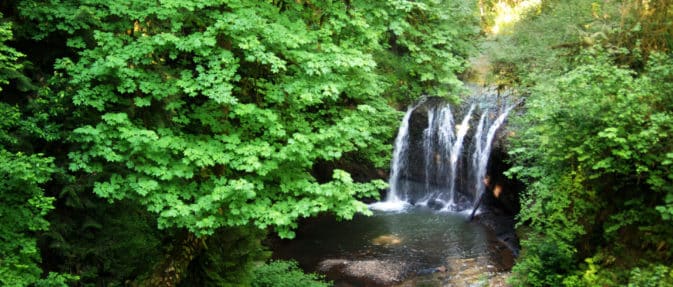 NCPRD announces development of new "Hidden Falls" park
HAPPY VALLEY, Ore. (August 23, 2017) – North Clackamas Parks and Recreation District has announced a public-private partnership with Icon Construction to acquire 21.3 acres of wooded natural area and provide public access to a previously inaccessible "hidden" waterfall in Happy Valley.
Privately-owned for decades, the property will be accessible to the public for the first time. The acquisition of this site is more than three years in the making and will lead to the preservation of the natural waterfall and surrounding habitat and the development of a segment of the regional Mt. Scott/Scouters Mountain Trail Loop in Happy Valley.
This new 0.84-mile segment of paved multi-use trail will provide a key link in the regional trail system and serve as a pedestrian corridor to connect local public facilities such as Oregon Trail Elementary School and Pioneer Park to the west, as well as Rock Creek Middle School and Hood View Park to the east.
"The Hidden Falls property is something special and we've been dedicated over the past several years to finding creative solutions to protect the falls and surrounding habitat." said NCPRD Director Scott Archer. "Through the collaborative partnership with Icon Construction, we're able to preserve Hidden Falls so the public can enjoy access to the natural beauty and serenity of this urban oasis for generations to come."
Following in the footsteps of a similarly successful public-private partnership that brought the nearby Pioneer Park to life in 2013, NCPRD and Icon Construction began collaborating on Hidden Falls three years ago, working to identify funding sources to make the complex development and preservation project come together.
"The Hidden Falls property is really a diamond that very few people knew existed," said Mark Handris, owner of Icon Construction. "NCPRD's idea to make it a public park is the best avenue to benefit the community as a whole, and they've been an amazing partner to work with."
The Hidden Falls project completes important components of NCPRD's Parks Capital Improvement Plan, and Metro's Mt. Scott/Scouters Mountain Trail Loop Master Plan. The overall value of the project is estimated at $2.8 million, with $1.6 funded by NCPRD Park System Development Charges, and $1.2 million in value donated by Icon Construction.
To learn more, visit ncprd.com/hiddenfallsproject.
###
About NCPRD North Clackamas Parks and Recreation District serves over 122,000 district residents within the City of Milwaukie, Happy Valley, and unincorporated areas of North Clackamas County, including Oak Grove, Jennings Lodge, and Sunnyside. The District offers more than 39 parks, 25 natural areas, 13 miles of trails including the 6-mile Trolley Trail, Mount Talbert Nature Park and three facilities: Hood View Sports Complex, the North Clackamas Aquatic Park and the Milwaukie Center.
Contact
Melina DeFrancesco
Marketing Communications Manager
(503) 742-4347
mdefrancesco@clackamas.us