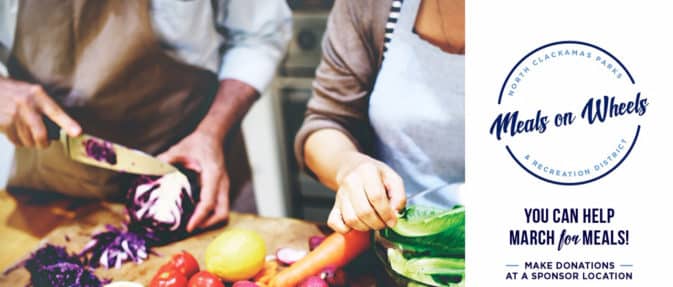 Join the Meals on Wheels Movement!
March is the Milwaukie Community Center's annual "March for Meals" fundraising campaign for the Meals on Wheels program, where dedicated volunteers come together to deliver nutritious meals to older adults and people with disabilities. Together with the support of the community, we provide up to 75,000 meals annually, so no senior goes hungry.
The Milwaukie Community Center's Meals on Wheels program is the largest indepentant operation in the state. No financial support is received from the local Meals on Wheels People that only services Multnomah, Washington and Clark Counties.
Thank you to all of our partners and to Bob's Red Mill for generoulsy matching donations up to $10,000 through the end of April!
Interested in helping out? 
1. Become a volunteer! Volunteers are the heart of this program and there are a variety of ways to help out, inlcuding preparing food, delivering meals or helping to organize funraising efforts.
2. Donate online with the Milwaukie Community Center Foundation.
3. Write a check to MCCF – Meals on Wheels, and send it to 5440 S.E. Kellogg Creek Dr., Milwaukie, OR 97222.
4. Donate in-person at one of the following locations:
Cutting Edge Credit Union
Milwaukie Branch
4620 S.E. International Way, Milwaukie, OR
Happy Valley Ace Hardware
14718 S.E. Sunnyside Rd., Happy Valley, OR
Milwaukie Community Center
5440 S.E. Kellogg Creek Dr., Milwaukie, OR
Milwaukie Liquor Store
10804 S.E. Oak St., Milwaukie, OR
North Clackamas Aquatic Park
7300 S.E. Harmony Rd., Milwaukie, OR
Olson Bros. Point S
14115 SE McLoughlin Blvd., Oak Grove, OR
Thank you for your support! All donations are 100% tax deductible (Tax ID #93-0797550). For more information on March for Meals or the Meals on Wheels program, please call (503) 653-8100.
Sponsored by Bob's Red Mill