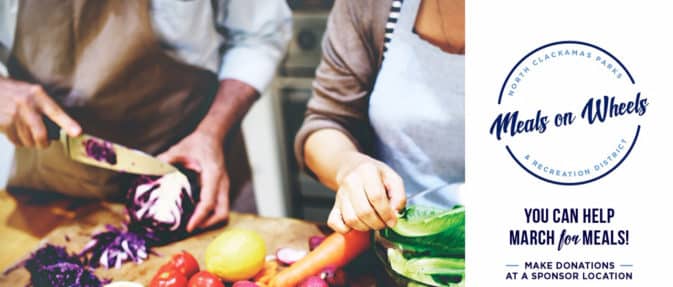 Join the Meals on Wheels Movement!
March is the Milwaukie Community Center's annual "March for Meals" fundraising campaign for the Meals on Wheels program, where dedicated volunteers come together to deliver nutritious meals to older adults and people with disabilities. Together with the support of the community, we provide up to 75,000 meals annually, so no senior goes hungry.
The Milwaukie Community Center's Meals on Wheels program is the largest indepentant operation in the state. No financial support is received from the local Meals on Wheels People that only services Multnomah, Washington and Clark Counties.
Thank you to all of our partners and to Bob's Red Mill for generously matching donations up to $10,000 through the end of April! Donate today.
INTERESTED IN HELPING OUT?
1. Become a volunteer! Volunteers are the heart of this program and there are a variety of ways to help out, including preparing food, delivering meals or helping to organize fundraising efforts.
2. DONATE ONLINE with the Milwaukie Community Center Foundation.
3. Write a check to MCCF – Meals on Wheels, and send it to 5440 S.E. Kellogg Creek Dr., Milwaukie, OR 97222.
4. Donate in-person at the front desk of the Milwaukie Community Center.
Thank you for your support! All donations are 100% tax deductible (Tax ID #93-0797550). For more information on March for Meals or the Meals on Wheels program, please call (503) 653-8100.
Sponsored by Bob's Red Mill