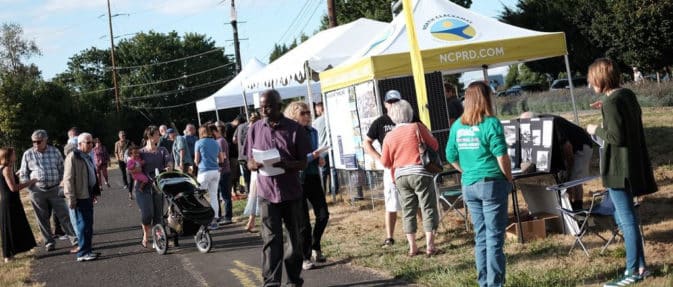 Milwaukie Bay Park Public Engagement
Thank you for sharing your ideas and shaping the future of Milwaukie Bay Park!
The Milwaukie Bay Park Project – as a partnership between NCPRD and the city – conducted a robust public engagement process throughout the design phase including community events, workshops, surveys, project materials, and social media engagement. In 2019 we heard directly from over 1,300 community members on key park elements, including the children's play area, water feature, art, and social gathering areas.
Staff held smaller group discussions to engage the Latinx community and communities living with disabilities. Spanish-language materials and online surveys were also distributed.
---
DESIGN DEVELOPMENT PUBLIC MEETINGS
April 2022
Project staff discussed the project with community members at a large workshop and at several smaller group meetings, both in English and Spanish
---
PRESENTATION OF FINAL PARK DESIGN
April 2019
The Final Design was presented to the public at the April 24, 2019 public meeting.
---
ALTERNATIVES REVIEW
April 2019
In November and December 2018 we held our second public meeting, and several small group meetings, to discuss three Design Alternatives. We met with more than 125 people living and working in the City and District, and heard from more than 375 people in our online survey. We heard what people preferred in the different alternatives, heard new ideas, and used this feedback to guide development of a single Final Design.
---
COMMUNITY CELEBRATION AND PROJECT KICK-OFF
August, 2018
On August 24, 2018 more than 300 people attended a celebration and design kickoff event at Milwaukie Bay Park. Attendees learned about the project and gave input to the team for design alternatives being developed this fall. Here is a summary of what we heard.
---
PUBLIC ENGAGEMENT PHOTO GALLERY