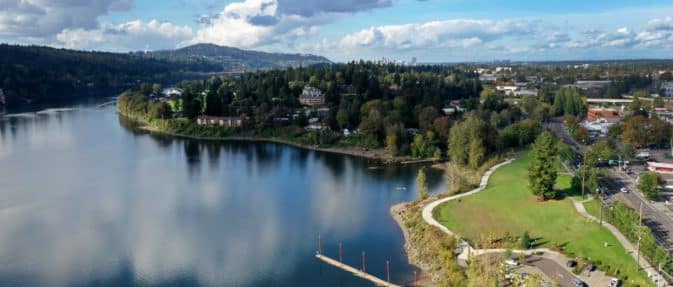 Milwaukie Bay Park Project
Thank you to over 1,300 community members who participated in the process, from August 2018 through April 2019, as we updated the plans for final improvements to Milwaukie Bay Park. We heard feedback on key elements, including a children's play area, water feature, art and social gathering areas. Your preferences and feedback informed the creation of three alternative park designs — and then the final design.
After more than two years of building support with partners and a robust funding package, NCPRD and City of Milwaukie have further refined the design and have more details to share on park features.
See the updated Milwaukie Bay Park design.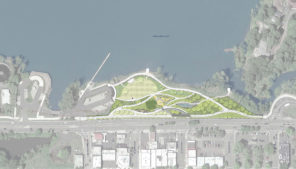 See the landscape architect's renderings (scroll through).
WHAT'S NEXT
The Milwaukie Bay Park Project has been awarded two grants: $750,000 from the Local Government Grant Program through the Oregon Parks and Recreation Department (OPRD) and $1,046,935 from the Land and Water Conservation Fund through the Oregon Parks and Recreation Department (OPRD) and National Parks Service. The awarded funds will go toward supporting a nature play area, interactive water feature, extensive pathways, seating, entry plaza, picnic terrace, restrooms, amphitheater with stage, redwood tree preservation, landscaping, water supply, storm sewer, electrical, and lighting. NCPRD is working closely with City of Milwaukie and other local, regional and state partners to fully fund and successfully complete this long-envisioned district-wide park.
In 2022, NCPRD has teamed up with our 2.ink Studio design team and construction contractor Lease Crutcher Lewis to refine the design and prepare construction documents. Join us on April 18 for a virtual public meeting to see a live presentation, listen to answers to submitted questions, and participate in live questions and answers (see details above).
---
ABOUT THE PROJECT
Milwaukie Bay Park is a scenic park property near downtown Milwaukie along the Willamette River. It is located just off McLoughlin Boulevard between Kellogg Creek to the south and Johnson Creek to the north. In addition to the river, the creeks, and a burgeoning downtown, there are several local parks and natural areas nearby and significant local and regional transportation connections such as the Trolley Trail, bike and pedestrian routes, MAX light rail, TriMet bus transit, and Oregon 99E.
Developing the design for the park site is a joint effort between the City of Milwaukie and the North Clackamas Parks and Recreation District. The final planned improvements, which will create new amenities and recreational opportunities, were revised and updated following a robust public engagement process — with anticipated construction in 2023.
While the full park property is over seven acres, the Milwaukie Bay Park design process focused specifically on the approximately 3.6-acre grassy area between McLoughlin/OR99E and the riverside path in the park. Planned park improvements include a children's play area, gathering/event area, interactive water feature, new pathways and Trolley Trail connection, restrooms, views, public art and interpretive elements, redwood tree preservation and geese mitigation.
---
BUILDING ON PAST WORK AND ENHANCEMENTS
A plan for the park was adopted in 2010 by the City of Milwaukie, serving as the foundation for many agencies, community partners, and local citizens to participate in shaping improvements over the years. Many elements of that plan were completed by the City over the past decade, including the Klein Point Overlook, new boat launch and landing, auto and boat trailer parking, restroom facilities, temporary Trolley Trail connection, a riverside path, river bank stabilization and plantings, plantings, an improved access bridge over Kellogg Creek, and a river bank repair project with new pedestrian access.
Now in the final phase, this design effort revisited the plan adopted in 2010 to update elements that were not completed in previous phases, integrating these in a final design that meets today's needs for the City, the District and the people they serve. Considerations included preserving the redwood tree, having the planned water feature be interactive, integrating nature play into the play area, and mitigating geese impacts — to name a few
---
SUPPORTING DOCUMENTS & RESOURCES
---
CONTACT INFORMATION
If you have questions or comments, please contact:
Heather Koch
NCPRD Planning and Development Manager
(971) 337-6867
hkoch@ncprd.com