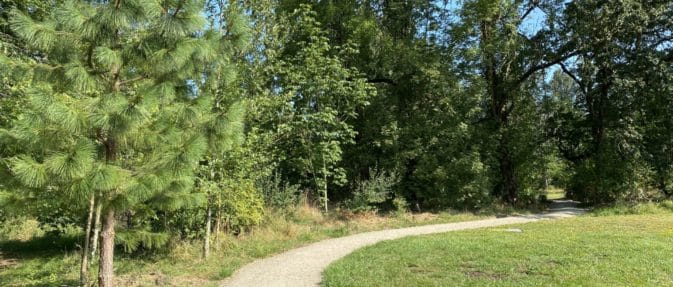 Soft-surface Trail at North Clackamas Park
NCPRD has developed a new soft-surface trail on the western edge of North Clackamas Park in Milwaukie, adding an extension and new connection to the park's existing trail system. The new trail replaces unofficial social trails that were impacting sensitive riparian habitat, and provides opportunities for residents to safely enjoy the surrounding natural areas in that part of the 47-acre park.
In 2012, NCPRD partnered with Clackamas Water Environment Services (WES) to develop a soft surface trail and overlook with views of Mt. Scott Creek, as part of a larger riparian restoration project at North Clackamas Park. The new trail builds on this past work and connects the overlook to a maintenance road on the south side of the park.
In addition, WES has awarded NCPRD a small grant to restore habitat around this new section of trail and along Camas Creek. This funding supports NCPRD's efforts to control invasive weeds and replant native plants, and to further enhance the Mt. Scott Creeks riparian area.
Trail Location at North Clackamas Park
5440 SE Kellogg Creek Dr. Milwaukie, OR
See full list of amenities at North Clackamas Park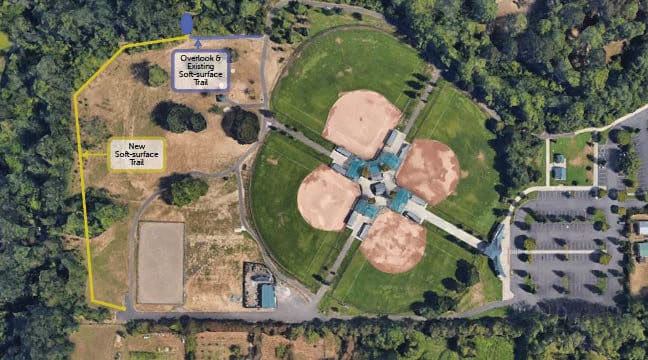 Additional Trail Information
Trail surface – Compacted gravel fines and a single boardwalk consisting of metal grating over wood
New trail length – ~0.2 miles
Trail grade – Less than 5% slope (fairly flat terrain)
Trail obstacles – Surrounded by trees, there's the potential for branches to fall on the trail
Nearby public transportation – TriMet bus #152
Connection to other trails – North Clackamas Park has over a mile of additional asphalt trail to the North and South, connecting to other park features, including the ball fields, horse arena, playground, covered, picnic shelter, off-leash dog area, restrooms, overlooks and a wood bridge over Camas Creek. Parking lot sidewalks provide ADA access leading to the trails.
Construction Image Gallery