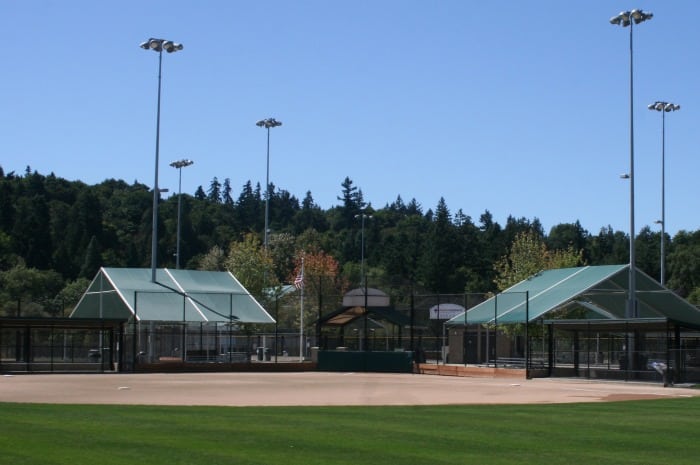 North Clackamas Park
5440 SE Kellogg Creek Dr. Milwaukie, OR
Hours: Opens half hour before sunrise and closes half hour after sunset
Acres: 45
Trail length: 1.7 miles
Amenities: Baseball/Softball, Off-Leash Dog Area, Walking Trails, Picnic Facilities, Playground, Shelter, Overlook Areas, Horse Arena, Restrooms, Parking
Accessibility: See more information provided by AccessTrails
Public transit: Trimet bus #152 at *The Milwaukie Center
The largest park in the District, North Clackamas Park covers 45 acres of fields, waterways and groves of mature oak trees. The park provides unique recreational experiences for all visitors, and includes shaded picnic areas, a covered picnic shelter, softball fields, a fenced horse arena and a dog park. Additional amenities include two playgrounds, walking paths, a volleyball net and horseshoe pits. Located in Milwaukie, the park is situated next to the Milwaukie Center and Sarah Hite Memorial Rose Garden.
Camas Creek divides the park into north and south, with Mt. Scott Creek flowing west along the northern and western boundaries of the park. A network of trails and walking paths throughout the site provides connections to the many park amenities. Learn more about the newest soft-surface trail on the western edge of the park.
The park includes several natural areas and sensitive habitats, including a wooded area of Oregon White Oak and Oregon Ash, and wetland and non-wetland riparian plant communities. With its mosaic of woodlands, lawns, streams, and wetlands, North Clackamas Park provides habitat for a variety of wildlife species. Overlook areas provide the perfect place to birdwatch and enjoy nature.